Guyana's first boxing world champion Andrew 'Sixhead' Lewis returns to the ring on December 17 after more than a two-year hiatus from the fight game to take on  Hector 'Machito' Camacho at the Princess Hotel.
The card, which is yet to be finalised, will be promoted by Seon Bristol of Briso Promotions and the Lewis/Camacho contestwill be the feature event of the night.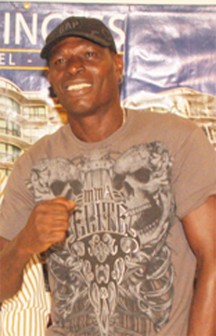 It is not yet known how many fights will be on the card, according to Bristol yesterday at a press conference at the Princess Hotel.
However, it was noted that Women's International Boxing Association (WIBA) bantamweight champion Shondell 'Mystery' Lady' Alfred and rising bantamweight star Elton 'Coolie Bully' Dharry are certainties at this time.
An opponent has not yet been named for Alfred who may defend her world title or move up in weight to fight for another title.
Lewis signed his contract yesterday and promised that it will be a good fight although he has been away from the ring for over two years.
The 40-year-old Lewis, who won the world title against James Page in February 2001, said he had wanted to quit after his last fight against Howard 'Battersea Bomber' Eastman but reconsidered because he believes he still has the talent and skills to compete.
"This will be a very good show and everybody should come because why, Six is back. I thought after my last fight I would just quit boxing but then I put that in the past and decide to show that I still got the talent because I am an ex-world champion", Lewis indicated.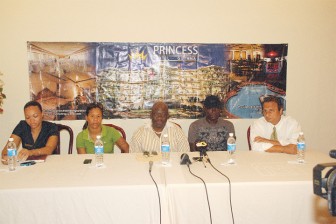 He said that he has been training periodically for the past two years but he will be stepping up preparation for the bout as quickly as possible.
When Camacho was last here he defeated 'Deadly' Denny Dalton by a unanimous decision in their 10-round contest at the Princess Hotel.
The son of Puerto Rican legend, Hector 'Macho' Camacho, also has an upcoming fight with Eloy Suarez in October.
Meanwhile, Alfred declared that she will be giving her all in the fight, especially since people have come to expect that from her. She said that for the past month she has been in the Forgotten Youth Foundation (FYF) gym but she too will be stepping up preparation in the coming months.
Alfred has successfully defended her title twice, the last time being against Olga Julio of Colombia last year.
Bristol, in brief comments, said that the card is expected to be a high quality one that would not only surprise Guyanese but the rest of the World. Bristol was the first promoter to stage a boxing card at a hotel in Guyana back in 2009. The historic event was streamed live on the internet.
President of the Guyana Boxing Board of Control (GBBC) Peter Abdool, lauded Bristol for once again attempting to raise the bar of boxing promotion in Guyana. He said that Bristol has become synonymous with high quality and he (Abdool) does not expect anything less with the upcoming card.
And Sales Manager of the Princess Hotel, Nadine Hing, said that the hotel was pleased to be associated with the card, especially since some of Guyana's top fighters will be on show.
Around the Web