LOS ANGELES, (Reuters) – Former boxing champ and  Olympic gold medalist Oscar De La Hoya says he is battling  addictions to cocaine and alcohol and seeking to rebuild his  relationship with his wife after being unfaithful.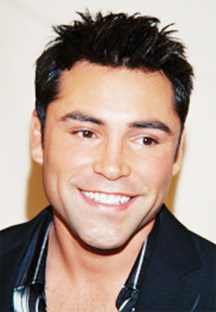 De La Hoya, in his first interview since leaving a Malibu  rehabilitation clinic, told the Spanish-language network  Univision in an interview broadcast on Tuesday that his life  was "a big mess."
"Rock bottom was recently, within a couple of years. Just,  thinking, 'Is my life even worth it?,'" De La Hoya said.
The 38 year-old former boxer, who won a gold medal in the  1992 Olympic games in Barcelona, said that he thought about  committing suicide, but does not "have the courage" to take his  own life.
De La Hoya, a Mexican-American fighter with matinee idol  good looks, said that he has been sober for three months.
He also discussed his difficulties with wife Millie  Corretjer, a Puerto Rican-born singer with whom he has two  children.
"I've been unfaithful to my wife," De La Hoya told  Univision.
He added that he had cheated more than once, and that he  was separated from his wife for a time.
"I don't want to explain to her anymore that I'm doing  well, I want to show her," he said. "It's like they say, you  have to walk the walk, and that's what I'm doing."
De La Hoya said he abused alcohol and cocaine, and that he  began using cocaine about two and a half years ago, about the  time he retired from boxing in 2009.
The boxer also said that before he left the rehabilitation  center in Malibu, he paid for another three weeks of treatment  in case he needs to return in the future.
"It's the biggest fight of my life," he said.
He described his addiction problems as a "monster," and  compared it to the top boxers he has fought in the past.
"I've been up against, you name it, everybody. I can put  Manny Pacquiao, Floyd Mayweather, (Fernando) Vargas, I can put  all of my opponents in one ring and battle all of them, but  this monster is going to be the toughest fight of my life."
Around the Web