By Marlon Munroe
Former Guyana Cricket Board (GCB) General Secretary Bishwa Panday believes that the current campaign for the top post of the GCB at the upcoming Annual General Meeting (AGM) should focus on issues and not mudslinging.
In an interview with Stabroek Sport on Friday the former Georgetown Cricket Association (GCA) president said he does not want to be a part of a mudslinging campaign reiterating that the current discourse should focus on the issues.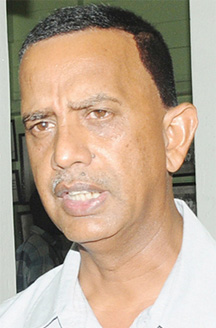 "I don't want to be part of the mudslinging and character assassination which is raising its head.
"I feel that the debate should be on issues and should centre on the most important thing- which is the cricket.
According to Panday should the GCB's election campaign degenerate further then cricket will be eventual loser.
"If this elections campaign degenerates, regardless who wins, cricket will lose", Panday declared.
Panday feels that the major issue at present is the restoration of the image, integrity and credibility of the institution.
He told Stabroek Sport that he also believes that the only those qualities can be restored to the GCB would be by people who possess those qualities.
Panday opined that cricket was the national game and that when it is administrated poorly it affects the people, a sentiment that was shared by Chairman of the Private Sector Commission (PSC) Ramesh Dookhoo.
He promised that within three months of his election to the helm of the embattled board he will change the course of the GCB.
"I am saying that in three months I would set it on its right course and it will be proceeding smoothly.
"I know I can do it because I have had 25 years of it.
"In my 25 years of stewardship is not some hollow performance it is there to be scrutinized," Panday stated.
This point was made against the backdrop that when he was GCA president for 18 months, his team was able to get corporate Guyana involved in the process of restructuring the game.
Panday stated he was proud of his track record as GCA president and he is of the belief that candidates seeking office should highlight their performance in office.
The other presidential hopefuls are vice president of the GCB and current Demerara Cricket Board (DCB) president Bissoondial Singh and Marketing Manager of the GCB Ramsay Ali.
"I will do for Guyana what I did for the GCA and it is as simple as that. This is not a dream where I wish I will do something, I will actually do it," Panday elaborated.
Around the Web