Incumbent Dr. Julien Hunte will be returned un-opposed as president of the West Indies Cricket Board (WICB), when the directors meet at the annual general meeting in Antigua tomorrow.
Stabroek Sport was reliably informed that Hunte, as well as vice-president, Jamaican Dave Cameron, will be returned un-opposed. The leadership of the WICB has come under attack from many quarters because of the poor performance of the West Indies cricket team over the last few years. And the matter of team performance will again be main item on the agenda, as the West Indies were bombed out of the current International Cricket Council (ICC) World Cup by Pakistan in the quarter-finals.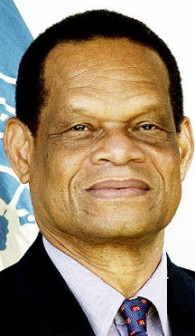 Controversy is also brewing as to who will be present at the meeting to represent the Guyana Cricket Board (GCB) and the Jamaican Cricket Association (JCA).
Two directors each from each of the territory has the right to vote at the AGM and both the GCB and the JCA have not held scheduled elections to determine who runs their cricket.
The public squabble among members of the JCA, led to the recent resignation of Robert Bryan as CEO after just six months in the post. Paul Campbell, incumbent JCA President, says the implementation of a code of ethics in the JCA is essential. It will take about three to four weeks for the code of ethics to be in place, according to him and Jamaica goes to the WICB meeting without holding their long overdue elections.
In Guyana the date for the proposed annual general meeting has long past and incumbent president Chetram Singh had made it clear last year he was not standing for re-election.
Singh's 19-over tenure as Guyana Cricket Board (GCB) president has been filled with ups and downs.
But now that the West Indies Cricket Board Director has decided not to seek re-election, his last days are being riddled with problems, confusion and mental fatigue.
The issues between the two feuding factions of the Demerara Cricket Board (DCB) which have reached the Court and implicated a Government Minister in the controversy, is the latest episode that is preventing the elections.
Singh and GCB secretary Anand Sanasie are the Guyana representatives on the WICB.
Around the Web