South Ruimveldt Park Primary School took top honours when Scotiabank hosted the Kiddy Cricket Mascot Competition recently.
With 144 entries from 17 schools countrywide, South Ruimveldt's eight-year-old Runako Williams copped first place and Kande Skeete third while Kayshav Tewari of the Valmikki Vidyalaya Primary School took second place.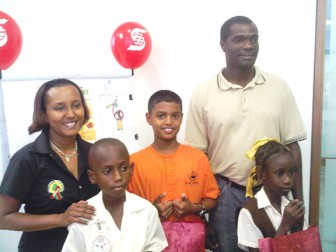 Williams, a grade three student, won a Nintendo DS for the mascot he named "Six". In his description he said he chose the name because six causes the most excitement among fans and "Six is fun!" Skeete won a Scotiabank bag with her drawing of a ball with cricket bat legs while 11-year-old Tewari from the East Coast based school won an MP3 player for his mascot "Maddox the Macaw".
The entries were judged on originality, reflection of the Caribbean, use of colours (kid-friendly and sponsor colours) and use of cricket imagery. Guyana's top three entries will be submitted for the regional contests where the top prize is a laptop.
West Indies Cricket Board (WICB) project officer KJ Singh said that "the entries have definitely exceeded our expectations in the artistic and creative departments." The competition also had a written component which was most revealed the children's knowledge of the game. "Overall this initiative achieved our goal of helping us find a new mascot and also energizing the kids for the upcoming 2011 programme," Singh said.
The winning design from the regional level will replace 'Clarence the crab' which has been the animated face of the competition since 1998. The character has been appearing in Kiddy Cricket displays both on and off the field while being the main feature of the of the programme's classroom technical manual, "Clarence Goes to School."
While the local programme ended on February 18, it targeted 250 Kiddy Cricket schools in Berbice, Essequibo and Demerara other entries were invited from students outside of these schools. In addition, judging of the regional competition has started and the winner is expected to be announced by month end.
Scotiabank which sponsors of West Indies Kiddy Cricket, and the WICB extend congratulations to all the children who participated in the contest.
Around the Web