MOHALI, India, (Reuters) – The prime ministers of  India and Pakistan will mix with Bollywood stars and thousands  of fans as the two rivals square off in a World Cup cricket  semi-final today in the wake of high profile peace talks  between the two nations.
The two teams will meet in the northern Indian town of  Mohali with army helicopters and anti-aircraft guns imposing a  no-fly zone over the stadium a few hours' drive east of the  Pakistan border.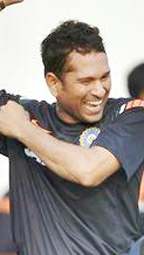 Prime Minister Manmohan Singh will host his Pakistani  counterpart, Yusuf Raza Gilani, at the match in an effort at  "cricket diplomacy" to rebuild relations shattered by the 2008  Mumbai attacks, in which 166 people were slaughtered.
The two cricket-crazy South Asian nations have talked of  little else for the past week in a buildup that has put the  spotlight on anything from players' preparedness to a row over  match-fixing to public prayers for victory.
The winner of what has been dubbed the "mother of all  matches" will play Sri Lanka in the final in Mumbai, the home of  Bollywood, on Saturday.
Many companies in both countries have declared half days today. The Karachi stock exchange plans to put a big screen  up for traders to watch. Lawmakers in the eastern Indian state  of Bihar have petitioned their government to suspend legislative  business during match time.
"This is a more important event than any other event for  Pakistan this year," said Omar Ehtisham Anwar, a fund manager at  Faysal Asset Management in Karachi who has taken the day off to  watch the match.
"There is no way I would miss even a second of this match —  I will try to not even blink during the game."
CRICKET DIPLOMACY
The game pits India's world-class players, including Sachin  Tendulkar, against a Pakistani side that has looked in  devastating form and ended Australia's 12-year winning streak in  the competition.
Cricket is just one of the many cultural, religious and  ethnic ties the two countries share dating back thousands of  years. But the nuclear-armed rivals fought three wars and  countless border skirmishes since their 1947 independence from  Britain, feeding an obsessive mistrust.
Singh has pushed reconciliation with Pakistan despite  misgivings within his own government. New Delhi blames Pakistani  militants for the Mumbai assault in collusion with elements of  the government, including Pakistan's spy agency.
In a major confidence-building measure ahead of the match,  Islamabad agreed yesterday to let Indian investigators travel  to Pakistan to probe the Mumbai assault.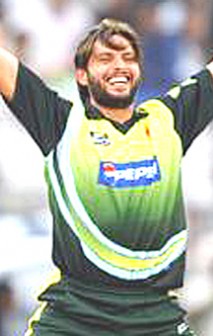 Scores of Pakistani fans poured across the border post in  India's northern Punjab state yesterday amid tight security.
"Obviously, love grows when two countries play together,"  said Syed Akbar Masood Nizami, a Pakistani cricket fan. "The  people from both countries get together, sit together to cheer  their teams and it helps develop feelings for each other."
There was a sea of blue-and-red turbans in Mohali and the  neighbouring city of Chandigarh which were patrolled by the  local Punjab police, with some 1,500 policemen being deployed  around the team hotel alone.
Police conducted surprise midnight checks on hotels near the  stadium to verify the identity of guests.
Thousands who had travelled to Mohali to queue for tickets  were left disappointed but at dusk yesterday some die-hards  decided to wait in line even after organisers had hung up the  "sold out" sign. Some Indians reportedly decided to give up  their tickets in a goodwill gesture to Pakistani fans.
For Prime Minister Singh, the match may be a way of  regaining the policy initiative after his government was  battered by months of corruption scandals that could dent the  ruling Congress party's chances in upcoming state elections. Both sides will hope to ride a wave of goodwill ahead of  ministerial talks in July. But there has been some scepticism  about the push for Singh's "cricket diplomacy", which has been  tried as far back as 1987, without bringing lasting peace.
"It facilitates resolution, it doesn't lead to resolution,"  former Pakistan President Pervez Musharraf told the Indian news  channel Times Now. "Cricket diplomacy doesn't meant that you can  resolve disputes just because you attended a match together."
Today however, all eyes will be on the game.
"I will be watching the match because there will be hardly  any customer out there, so it is better to watch it instead of  wasting fuel," said Idees Ahmed, a taxi driver in Islamabad.
Around the Web