MUMBAI, (Reuters) – Sri Lanka repulsed a spirited  New Zealand challenge in Colombo yesterday to win their World  Cup semi-final and present Muttiah Muralitharan with the  opportunity to finish his career with a flourish.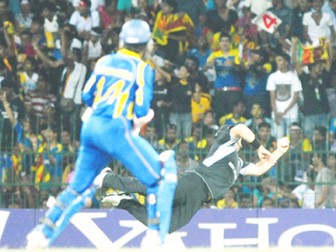 Muralitharan, who took his 800th test wicket with his final ball in test cricket, showed a similar taste for drama in his last match on Sri Lankan soil.
Although clearly hampered by the knee and hamstring injuries which had threatened to sideline him, Muralitharan still bowled  his full quota of overs and with his last delivery he dismissed New Zealand's top scorer Scott Styris lbw for 57.
He will retire after Saturday's final in Mumbai against the winners of today's semi-final between India and Pakistan with his test and one-day wicket-taking records unlikely to be  ever exceeded.
New Zealand, who at one stage had looked to be heading for a score of 240 which may well have proved too much for Sri Lanka, failed to complete their overs and were bowled out for 217 with seven balls to spare.
Muralitharan watched anxiously from the stands as a Sri Lanka reply of 160 for one became 169 for four. As the tension  mounted, all-rounder Angelo Mathews hit a six to relieve the  pressure and Sri Lanka eventually crossed the line with five  wickets and 13 balls to spare.
Kumar Sangakkara, who won the man-of-the-match award for his  perceptive captaincy, his accustomed skills behind the stumps  and a delightfully fluent 54, paid an eloquent tribute to Sri  Lanka's greatest cricketer.
"It was Murali's last game and everyone was up to make sure  we gave him a great sendoff from Sri Lanka and everyone did a  great job," Sangakkara said at the victory presentation.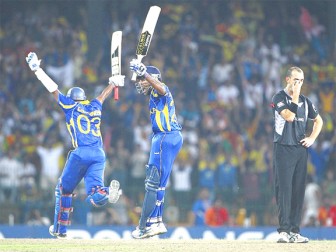 "He is an icon of Sri Lanka as a champion on the field and  off the field, as a human being and as a cricketer.
"I don't think there's anyone out there who matches him, he  is a fantastic performer, he is a fantastic human being and he's  the ultimate team man. Everytime he plays, he has done wonders  for us. He has no ego."
BATTNG SPLENDOUR
Sri Lanka, the 1996 champions, were sloppy in the field in  the quarter-final against England and their middle-order batting  was fallible against committed New Zealand bowling and tigerish  fielding  yesterday.
The variety and skills of their bowlers and the splendour of  the top-order batting remained intact, confirming the  pre-tournament assessments that they were the best all-round  team in the tournament.
"Our fast bowlers have been performing and on our tracks our  variety is very hard for the opposition to face," said  Sangakkara.
Bowling won the match for Sri Lanka after a brisk start from  the New Zealanders, who became the sixth Kiwi side to falter at  the semi-final stages.
Sangakkara took Lasith Malinga out of the attack after an  exploratory opening over, bringing him back with the old ball  when he dismissed Martin Guptill (39) and Kane Williamson (22)  with wicked inswinging yorkers when both batsmen looked set.
Nathan McCullum (9) followed caught behind, completely  fooled by a slower delivery.
Muralitharan, unable to put full weight on his injured knee,  still took two for 42 while none of the batsmen, including  Styris, could read Ajantha Mendis with any certainty.
New Zealand fought gallantly and threatened at one stage to  pull off one of the great World Cup upsets. But they were  ultimately undone by the home team's bowlers and a sixth World  Cup semi-final ended like all the others in defeat.
"We set up a great platform and we ruined it a bit by losing  too many wickets," said captain Daniel Vettori. "They are a  tough group of bowlers to come in and start against. They've  showed that throughout the tournament.
"Sri Lanka are going to be tough in the final, particularly  with their bowling unit when they all click."
Around the Web