The Berbice Cricket Board (BCB) last Sunday successfully launched its Junior Elite Training programme consisting of 35 under-15 players at the Albion Community Centre Ground, Berbice. According to a press release, the aim of the programme is to ensure that the ancient county's young players stay in shape physically and mentally for the upcoming under-15 Inter-County title defense of the Guyana Cricket Board (GCB) sponsored tournament.
At the official launching of the programme, chairman of the BCB's special events committee, Hilbert Foster, challenged the young cricketers to be disciplined at all times, to show commitment and most importantly to be prepared to work hard as it was the only way towards   success for Berbicians, the release noted.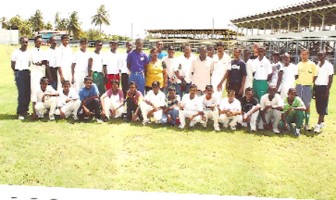 While Foster urged the players to work hard to impress the selectors, he also stated that no form of indiscipline would be tolerated.
President of the BCB, Keith Foster reminded the young players of the huge investment that the BCB was making in their future and urged the youngsters to dedicate themselves to the task at hand. He also challenged the cricketers to practice what they have learnt from the coaches at home to make sure that they develop at a faster rate.
Chairman of the BCB Junior Selection Committee, Leslie Solomon, informed the players that the final selection on the Berbice Under-15 team would be based on performances at the upcoming trial matches, past performances at the BCB Under-15 Inter-club level, discipline, attitude and potential for the future.
After the launching the players were involved in a four-hour training session with the coaches. The programme will continue this weekend at the Albion Sports Club Ground from 13:00hrs.
Around the Web