MOHALI, India, (Reuters) – India kept alive a  billion dreams after sinking Pakistan in their World Cup  semi-final yesterday to set up an all-Asian final against Sri  Lanka.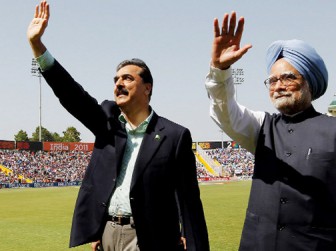 Unlike their opponents from across the border, India did not  look overwhelmed by the hype surrounding the showdown that  forced a virtual lockdown in this tiny north Indian town.
The 1983 champions put 260-9 on board and then returned to  bowl out their opponents for 231 with just one delivery left to  complete a 29-run victory to spark euphoria in and around the  Punjab Cricket Association Stadium.      The victory not only pits them against Sri Lanka in  Saturday's final between the co-hosts in Mumbai but also spared  them some unnecessary plane-hopping.
"One good thing (about is this win) that the next flight  would be a chartered flight. We will go to Delhi first and from  there to Mumbai (without changing planes)," India captain  Mahendra Singh Dhoni, fed up of jumping on and off connecting  flights over the past six weeks, told reporters.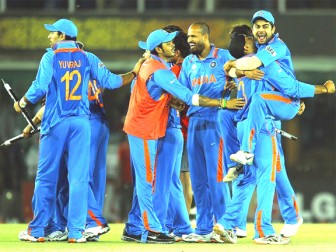 On the pitch, Sachin Tendulkar endured a bumpy ride yesterday. Shahid Afridi had vowed not to allow the Indian score his  100th international century against Pakistan but his team mates  seemed to have different ideas.
Tendulkar was dropped by Misbah-ul-Haq, Younus Khan and Umar  Akmal, whose elder brother Kamran also missed a half-chance at  stumping the batsman.
This was after the Indian had successfully overturned an lbw  decision that had gone against him using the same decision  review system he has been critical about.
Tendulkar, however, still could not reach the 100-mark as  Afridi took matters into his own hand, literally, by catching  the Indian off Saeed Ajmal to dismiss the batsman for 85.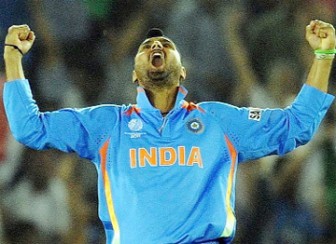 It was his opening partner Virender Sehwag (38) who gave  India a blazing start, almost oblivious of the monstrous burden  of expectation that rested on the shoulders of all 22 players  who featured in the contest.
The presence of prime ministers of both the countries may  have suited the 'cricket diplomacy' initiatives but if anything,  it only increased the pressure on most of the players. Sehwag, however, took it all in his stride as he blasted 21  runs off an Umar Gul over, a shock the Pakistani pace spearhead  could not recover from in the remainder of the match.
India, however, could not make the most of the start and  Wahab Riaz's maiden five-wicket haul restricted them to a total  that would not have been possible but for Suresh Raina's  unbeaten 36-run cameo down the order.
Pakistan were off to a decent start too but while the likes  of Mohammad Hafeez (43) and Asad Shadiq (30) got the starts,  they could not convert it into big knocks.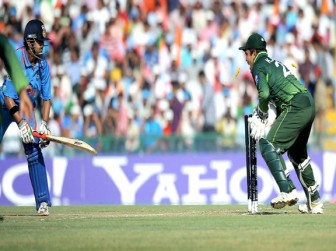 Down the order, Misbah (56) came out with some lusty hits  but lack of partnerships meant by then the game had slipped  through Pakistan's fingers, just like one of those catches from  Tendulkar that went begging.
"Lack of partnerships has been a problem for us right from  the start of the tournament and it recurred today," Afridi rued  after Pakistan once again succumbed to the jinx of never beating  their arch-rivals in one-day cricket's biggest stage.
"We have invariably won matches where we had partnerships.  Besides, our shot selection was very poor."
Around the Web