SYDNEY (Reuters) – Balancing India's commercial power with the interests of other cricket-playing nations is one of the main challenges facing the game over the next few years, according to former ICC chief executive Malcolm Speed.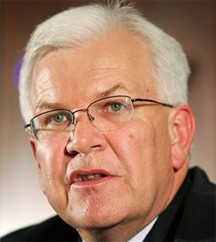 Sticky Wicket, the Australian's memoir will be released on Friday and details his 11 years in cricket, first as chief executive of the Australian Cricket Board and then at the International Cricket Council (ICC) from 2001 to 2008.  His spell at the top of cricket coincided with India's emergence as the game's superpower and the book details the impact of that as well as corruptions scandals, chucking controversies and the emergence of Twenty20 cricket. Speed lays out starkly how the value of Indian television rights have changed the dynamic of international cricket with an Indian tour of Australia now generating five or six times that of the next biggest draw, England.
That clearly gives India huge clout when it comes to negotiations on the international stage, with other countries wary of falling out with the Board of Control for Cricket in India (BCCI) for fear of losing a tour.
"Finding the right balance between India's commercial power and the interests of the other countries is a big test for the game," Speed told Reuters in a telephone interview.
"Most other sports would be happy to have the world's second biggest country so passionate about cricket, so if it's managed properly, I think it's a positive.
"It's something where there will have to be an accommodation between India and the other countries, there's not much point India playing itself, so it needs to keep the other countries strong.
"From time to time, they will need to stand up to India."
Speed certainly feels he did that while at the ICC and ultimately, he says in his book, it forced his early departure after he offended the BCCI over the issue of Zimbabwe cricket's finances.
The 63-year-old's clashes with Indian officials led to him being burned in effigy on the subcontinent and routinely branded a racist.
"The effigy burning was part of the job," he recalled. "There was usually some sort of misunderstanding or exaggeration of the position and I think that's a great example of the passion for the game in India.
"It's a traditional way of expressing dissatisfaction with people in positions of power and it was my turn a few times. I look back on with a sense of amusement."  The racism accusations were less amusing.  "I'm not a racist and I was never happy to be called a racist," he said. "Sometimes I had to make decisions that upset one country or another and it was an easy accusation to make."
Around the Web