Trophy Stall XI have kept their title defence hopes alive, entering the super sixteen stage of the Guyana Telephone and Telegraph (GT&T) Softball Cricket Competition set for the Uitvlugt Community Centre Ground and the Everest Cricket Ground on April 2 and 3.
The finals of the zone rounds concluded last weekend at different venues around the country. According to a press release, while Trophy Stall XI overpowered their opponents, their counterparts from Georgetown, Regal XI, also made it through to the super sixteen with their prolific opening batsman Azad Azeez becoming the highest individual scorer in the tournament with a masterful knock of 142 not out.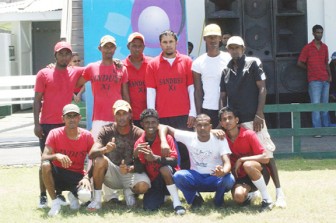 Sandust XI proved to be too much for favourites Rockaway XI and Trophy Stall 'B' XI as they made it to the super sixteen stage to join Mahaica Raiders to represent the Lower East Coast Zone.
In the East Bank Zone, Farm XI made light work of Digital Technology by 9 wickets as they confirming their position as the champions for the zone.
In Essequibo, Leguan Superstars made light work of the Pomeroon champions, Goulin Gladiators in a play off to ensure their return, being the representatives last year.
The Berbice Titians of the Berbice Central/Upper Corentyne Zone made it through to the super sixteen, joining Universal Solutions Tigers, Celebrity Times and Bushlot Challengers as the teams to carry the challenge to the other zones.
Meanwhile massive crowds are expected when the zone representatives clash this weekend. GT&T and the other sponsors will be at the venues with their promotions and also to entertain with their novelty games so that the spectators can also be winners. Teams that qualified for the super sixteen stage are:
Males – Coomacka Mines United (Linden), Adventure Sports Club (South Essequibo), Speedboat Sports Club (West Bank), Sandust XI (Lower East Coast), Affiance Storm(North Essequibo), Bush Lot Challengers (West Coast Berbice),Wolf Warriors (West Coast), Leguan Superstars (Essequibo Islands), Universal Solutions Tigers(Lower Corentyne), Farm XI (East Bank), Berbice Titans (Central/Upper Corentyne), Regal XI (Georgetown), Mahaica Raiders (Upper East Coast), Celebrity Times(New Amsterdam/ Canjie), Trophy Stall XI (Georgetown), Platinum Jaguars (Lethem).
Females – Trophy Stall Angels (West Coast), All Star Conquerors 'A'(Linden), Speedboat (West Bank), Falcon Girls (Essequibo Island), Capoey Warriors (North Essequibo), Wakapoi Females (Pomeroon), Capoey Arrivals(South Essequibo), Rising Star 11(West Coast), Berbice All Stars (New Amsterdam/ Canjie), Mahaica Queens (Upper East Coast), Lusignan Street Warriors (Lower East Coast), Corriverton Queens (Corentyne), Mike's Well Women (Georgetown), Victorious Warriors (East Bank), MTWTSS Warriors (Linden), 4R Lioness (Georgetown).
Around the Web