MUMBAI, (Reuters) – Mahendra Singh Dhoni celebrated  India's World Cup triumph by shaving off his famous dark locks  while his team mates spent yesterday morning plastering a "thousand  kisses" on the silver and gilt trophy that was finally in their  possession.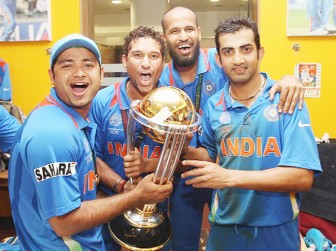 Bleary-eyed fans up and down country, who had spent the  night dancing and singing away in "the world's biggest street  party", speculated on what prompted Dhoni to shave off his mane  just hours after he had guided India to glory.
The Indian captain chose not disclose why he had shaved his  head and instead savoured holding aloft the 60 cm, 11 kg trophy  in front of the Gateway of India, one of Mumbai's best known  landmarks
Team mate Yuvraj Singh, in jeans and a team t-shirt, was  more expressive as he posed with the trophy and shared the heady  emotions that sloshed inside the Indian dressing room.
"Everybody was hugging each other. Too many tears, too many  emotions," said the southpaw who grabbed the man-of-the-series  award with his consistent all-round show.
"I think we kissed the World Cup trophy a thousand times. It  was a dream for all of us.
"There was a lot of emotions. I saw Sachin (Tendulkar)  having tears in his eyes for the first time. It was pretty  emotional," said Yuvraj who himself sobbed after India's victory  at the Wankhede Stadium and his voice was choked during the  presentation ceremony.
Tendulkar explained what it meant for him and his nation.
"As a young boy, I grew up wanting to win it some day. It  was something I always wanted.
"This is the ultimate trophy, the ultimate thing which  brings smiles on the nation's face. It makes all the  well-wishers across the globe extremely happy," said the batsman  before leaving for a felicitation ceremony being hosted by  Indian President Pratibha Patil.
Celebrations have not stopped since Dhoni hit that  match-sealing six and India resembled a land of crazy insomniacs  as millions of fans poured on to the streets across the country,  blowing horns, standing on running bikes with the tri-colour  flag in hand and hugging total strangers.
Traffic came to a standstill in Mumbai's Marine Drive where  fans were hanging out of cars, something former England skipper  Michael Vaughan found amusing.
"Hanging out of the windows is the way to go," Vaughan wrote  on his Twitter page, posting a photograph to illustrate his  point.
"…trying to crawl through all the Indian supporters who  are partying all over the streets…incredible scenes," he  wrote.
India's most enduring film personality Amitabh Bachchan and  his family of actors hit the streets in the dead of the night,  like thousands others, waving the tri-colour.
"It's like we just won our independence! Incredible," he  wrote.
"No one is saying anything…just screaming…never before."
In Delhi, Italian-born Sonia Gandhi, who is the leader of  ruling Congress Party, mingled with cricket fans who had hit the  streets.
Unsurprisingly, local governments around the country wanted  to show their appreciation to the cricketers by showering them  with gifts.
The Indian cricket board awarded 10 million rupees  ($224,700) to every member of the squad.
On top of that, Delhi government said it would give Dhoni 20  million rupees, while four Delhi players — Gautam Gambhir,  Virender Sehwag, Ashish Nehra, and Virat Kohli — would get 10  million rupees each.
The Gujarat government announced an awards for Yusuf Pathan  and Munaf Patel who hail from the state. Houses, cars and even  more cash are just some of the gifts being given to the players.
Across the border too, Dhoni's unflappable captaincy won him  admirers.
"He deserves this honour because he has led the side by  example. His coming into bat up the order in the final was a  masterstroke," former Pakistan captain Aamir Sohail said. "He didn't make any major mistakes in the crucial games."
Rashid Latif, another former captain, would have loved to  have seen Tendulkar score his record 100th century in the final  but was happy that the Indian finally tasted World Cup victory.
"It was not destined to be but I am very happy for Tendulkar  because he is a great example for young cricketers and deserved  to be part of a World Cup winning team after such an illustrious  career."
Latif felt India's World Cup victory augurs well for the  game.
"It means more money in cricket which is good for the sport  and players," he said.
Around the Web