SOUTHAMPTON, England, (Reuters) – Stand-in captain  Kumar Sangakkara rued Sri Lanka's bizarre batting collapse in  the first test after his team lost the three-match series 1-0 to  England.
Sangakkara's six-hour 119 helped clinch a draw in the third  and final test at the Rose Bowl  yesterday as his side finished  on 334 for five, 141 runs ahead of the home team.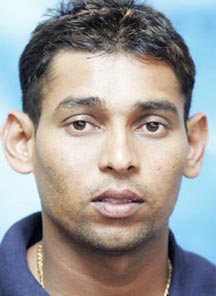 The remarkable innings defeat in the opening test in Cardiff  — where Sri Lanka were skittled for 82 in 24 overs —  ultimately cost them the series.
"That was probably the biggest regret on this tour,"  Sangakkara told reporters. "None of us were switched on to that  situation.
"We needed to bat consistently for 25 or 30 overs, just one  pair to put on a proper partnership on a wicket that was flatter  than this one.
"It goes to show that one mistake, two mistakes, can magnify  a situation that we should have been capable of handling nine  times out of 10," added Sangakkara who was skippering the side  at the Rose Bowl in place of the injured Tillakaratne Dilshan.
England's series victory was their fifth in a row but Sri  Lanka are clearly missing retired spinner Muttiah Muralitharan.
Sangakkara said his team had to find new ways of winning now  that Muralitharan and pace pair Chaminda Vaas and Lasith Malinga  had quit the test arena.
"Our ambition has to be to consolidate with the players we  have, the ability we have, and find new ways of winning test  matches," he added. "We don't have Muralitharan any more, we  don't have Vaas.
"For us to win we have to find different avenues. Those are  the questions we need to answer in the months ahead."
OPTIMISTIC OUTLOOK
It is a more optimistic outlook for captain Andrew Strauss's  England, who are eyeing the world number one test ranking.
Strauss's men are now third behind South Africa and leaders  India, who tour England next month.
"We'll take the series win — it continues our momentum from  the winter and leads us into the India series in good cheer and  in pretty good form," Strauss said.
"All three test matches were affected by the weather and in  all three tests time was running out in order to force a result.  In a way we're very satisfied we were able to convert one of the  three opportunities to force a result.
"Maybe there's a tinge of disappointment we weren't able to  do more today because we felt we were in with a really good  chance of winning the game," added Strauss.
Both teams must now switch their attentions to Saturday's  one-off Twenty20 international at Bristol and the subsequent  five-match 50-over series.
Sri Lanka should have Dilshan back after he missed the third  test with a broken thumb.
"I think Dilsh will be fine," Sangakkara added, praising the  captain's 193 in the drawn second test at Lord's.   "We hope he will be fit because of the way he is batting.
"I think he'll again be the key factor for us to win the ODI  series. For him to be back leading us on the field will be good  for all of us and Dilsh."
Around the Web