KINGSTON, Jamaica, CMC – Ottis Gibson reckoned that West Indies still have a chance to win the opening Test against India, after his side suffered another batting meltdown, and conceded a first innings lead of 73.
The West Indies coach felt the Test still hung in the balance, although India held an overall lead of 164 with seven second innings wickets standing after an action-packed two days at Sabina Park.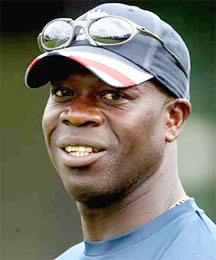 "We still have a great opportunity to restrict India, and if we can restrict them to anything below 250 or 280, it's still a great run chase for us," he said.
"Perhaps, India hold a slight advantage. They have the runs on the board, but we have seen that we can take wickets.
"If we can get some early wickets, and restrict them, despite the pitch is sometimes looking a good batting surface, and other times, its looks like it's doing a lot.
"But we are still in there, and we have to be a lot tougher in the crucial situations."
Gibson said it's been tough to swallow the batting collapses that have undermined West Indies in recent matches.
He explained that the players have all worked hard in the nets trying to iron out their deficiencies, but they found it difficult transferring that diligence into a match atmosphere.
"Our batting has been a real problem," he said. "We have managed to win a Test match, getting 20 wickets against Pakistan, but we have just not been able to put together big scores. "The batsmen are working quite hard in the nets. There is not much more we can do about the way we practise and prepare for games.
"It's just about people going out and having a mindset about batting for a long period of time.
"We have a chance to play against an Indian attack that's not the greatest with someone like Zaheer Khan missing, so it's an opportunity for our players to make bigger scores."
Gibson also raised a complaint about the pitches that have been produced not only for this Test, but all of the matches in this series, and the preceding Pakistan series.
Most, if not all have favoured the opposition's spin bowlers, who have gained appreciable turn, and in a few cases, awkward bounce, much to the consternation of the ill-equipped West Indies batsmen.
"The pitch probably favours India, and it's been a little disappointing seeing this surface, but there is not much we can do about it," he said.
"It's the same for both sides, but it seems to me that the surfaces continue to favour the opposition more than us."
Gibson said the team has also spent countless hours in discussion about seizing the moment in matches.
He highlighted the first day, when India were reeling on 85 for six, yet were able to fight back to reach 246 in their first innings.
"It's something we have spoken about for a helluva long time, especially during the Pakistan series," he said. "We keep putting ourselves in good positions, and then fail to take control.
"Fair play to Harbhajan Singh and Suresh Raina! They came in and counter-attacked very well, and took the game away from us in that middle session – and that has been the difference between the two teams.
Around the Web