ST JOHN'S, Antigua, CMC – Regional governing body for cricket, the WICB, has accused players' union head Dinanath Ramnarine of threatening behaviour during a stormy meeting in Jamaica last week, and is seeking an apology over the incident.
In a letter sent to the West Indies Players Association, the WICB said Ramnarine "rose from his chair, picked up the chair, and advanced towards the WICB CEO in a threatening manner" at one stage during the meeting.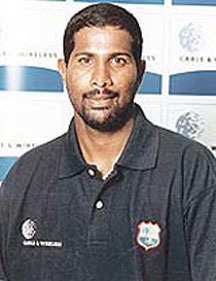 Ramnarine was part of a meeting involving WICB officials which was called to discuss Chris Gayle's future following a controversial interview the batsman gave to a Jamaican radio station in April.
"This incident has caused great concern to the Board, and while the CEO has reserved his position on any further action, the Board is not prepared to tolerate such conduct, including the use of foul and abusive language, towards its representatives during meetings which are meant to be constructive, professional exchanges between parties on matters relating to West Indies cricket," a WICB release said Wednesday.
"We accordingly request that WIPA either facilitate an apology to the CEO from Mr. Ramnarine, together with an assurance/undertaking that he will not engage in any physical or verbal threats during meetings with representatives of the West Indies Cricket Board or identify alternative WIPA representatives to engage in meetings with the WICB."
In the letter sent by corporate secretary Stephen Camacho, the WICB also said suggested that a meeting be held between the executive committees of both organisations to discuss the status of the existing relationship.
This latest twist comes just days after WIPA gave Hilaire a seven-day ultimatum to apologise to Ramnarine, over what the players union called "defamatory" comments made by Hilaire during the meeting.
WIPA also expressed their confidence in Ramnarine, saying they were satisfied he acted responsibly during the same meeting.
"Unequivocally, Ramnarine has not in any way or at any time acted unreasonably or in a manner that undermines his professionalism or commitment to getting the job at hand done," a statement from the Trinidad-based organisation said.
Around the Web