BRIDGETOWN, Barbados, CMC – West Indies coach Ottis Gibson believes estranged opener Chris Gayle has to decide his own future with the regional side, and says he will press ahead with his goal of building a successful, united side.
Speaking on Friday in response to criticism from Gayle, Gibson said the Jamaican left-hander still had a role to play but it did not appear as if the was interested in doing so, based on his public utterances.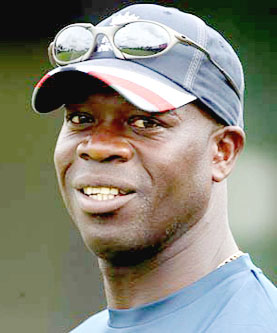 Gayle released a statement on Friday lamenting his continued exclusion from the West Indies squad, and also criticized Gibson and several West Indies Cricket Board directors.
"It's a board matter now. The board is dealing with it. Chris knows this. I have said all I can about it. Chris knows my stance, so if he chooses to come out and make statements, then that's up to him," Gibson told reporters.
"The board knows my feelings on the whole thing, and we are trying to build a team, a team that is competitive and start to win, we have not been doing that for a while, and everybody has a part to play in this, and Chris Gayle has a part to play in it, if he chooses.
"It seems from a lot of the stuff from what he is saying, he doesn't feel he can be a part of it. He knows what the score is and he is choosing his own path completely. And that's up to him completely."
Gayle has been overlooked for selection since returning from the Indian Premier League, this despite meeting with the WICB to thrash out controversial issues last month.
In blasting the WICB, the former captain also accused Gibson of "deliberately try to destroy my character, reputation and livelihood", and attempting to devalue his leadership.
Gibson, who has led the regional side for a year-and-a-half, said he would not be distracted from his objectives of molding a winning unit.
"I do not think much about what is being said. My focus is with the team, and trying to get the team into shape, and as you can see, though we are not batting very well, there has been a lot of improvement in the team, so that is my focus, and whatever Chris or anyone else wants to say outside of the team bubble that is completely up to them," the former West Indies fast bowler said.
"It's been going on for a while. I am trying my best not to get distracted by it all because at the end of the day, I have 13 other players here, and there are broader issues with which I have to deal in West Indies cricket.
"I believe there are signs of improvement within the squad. I think we are fielding well. We are bowling teams out twice now, which was not a feature of our cricket for a long time, and we just need our batsmen to bat to their potential and support the bowlers.
"I think if we do this, we have the makings of a cricket side that is capable of winning matches."
Gibson said coaching West Indies had been an objective of his since he started the profession and having taken up the role, he explained that there were adjustments that had to be made to the team.
He stressed that his key focus since taking over was building a team concept, and everyone needed to fall in line.
"I love my job and when I was working for England, and even before I was working for England, when I became a coach, one of the things I wanted to do was to coach the West Indies team. West Indies is my hometown. It's where I grew up. It's my team," Gibson pointed out.
"It's the team I represented, and I wanted to coach that team. I have gotten the opportunity now. I look back at a lot of things, and you realise that things needed to change or improve if we were going to be a successful team.
"I said this to the guys, 'I have come to build a team'. And building a team you have to look at all the ingredients. And the end-product may not include all of them because we need direction, and people have to understand and appreciate the direction in which the team is going to be successful."
He added: "If everybody does what they want, then there is no team. You can see the energy on the field, and the team is taking shape. Chris is not in the team, and obviously, by what he is saying, he does not agree with the direction in which we are going, but yet the team is improving."
Around the Web