President of the Berbice Cricket Board (BCB) Keith Foster said yesterday that the board's legal advisors have requested documentation on what transpired at last Sunday's Guyana Cricket Board (GCB) elections.
The BCB had sought legal advice after the controversial GCB elections that saw Ramsey Ali becoming the new president unopposed and with only Essequibo's nine delegates and one from Berbice voting. The elections have also caused rumblings in the cricket fraternity, causing many to question whether it was properly constituted.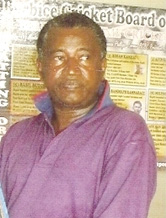 Questions were also raised since the GCB constitution says that no less than two county boards can constitute an election.
Some members of the Berbice board have also stated that they will not recognise the new GCB, prompting Foster to say that he will have to find out who these persons are. Foster said Berbice will participate in the GCB tournaments until an official statement is made on whether the GCB elections will be challenged.
Further, Foster said, business continues as usual in the county, stating that he met with first division clubs yesterday.
On the other hand, Attorney Sanjeev Datadin, Returning Officer at the Guyana Cricket Board (GCB) elections last Sunday, said on Friday the polls were legally held and followed due process.
He said there was a quorum when the meeting was convened but he had no control over who voted or not. He maintained that voting was voluntary. Datadin also emphasised that from a legal standpoint he does not see a lawyer winning in a case like this, especially since the meeting was properly convened and there was a quorum.
Berbice had attended the AGM but had stated from the inception that it was not participating in the elections without the involvement of all three county boards.
Around the Web