DHAKA,  (Reuters) – Stuart Law needs to form a stable  relationship with the senior figures in Bangladesh cricket in  order to push the team up the world rankings, the new coach said  yesterday.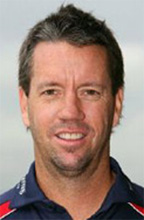 "If I can have a great relationship with the selectors, the  captain and the board then I am sure we can have consistent  things happening," the Australian told reporters.
"It's been proven the most stable relationship at the top  generally provides the best environment for the players to play  better cricket."
Former batsman Law, who has signed a two-year deal to  replace fellow countryman Jamie Siddons, said he was relishing  the task of hauling Bangladesh off ninth and last place in the  world test rankings. "I think when you have a new coach or a change of management  it is always a challenge," he said. "The challenge is to put  names into faces for the first couple of weeks. "Once we get into that the next challenge for us is to make  Bangladesh the team they think they should be. It's not about  what I think they should be but what they expect from  themselves.
Around the Web