Led by a 4-wicket haul by Essequibo all-rounder Anthony Adams and an unbeaten 72 by star batsman Chanderpaul Hemraj, Guyana closed the first day of their opening 2011 West Indies Cricket Board Under-19 tournament match with a first innings advantage of 44 runs over the Leeward Islands.
Guyana closed on 159 for 3 in reply to the Leewards' meagre first innings total of 107 and have already claimed the crucial 6 points which is allocated for the higher first innings.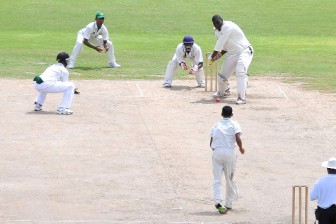 On a day which began with glorious sunshine,  Leewards skipper, Rahkem Cornwall, nephew of former Leewards and West Indies player  Windell Cornwall, won the toss and did what all captains did in the just-concluded local GTM Under-19 competition and elected to take first strike on the slow Providence track.
His openers Elijah Peters and Duan Webbe took the score to 25 without loss in the 7th over, before Webbe  fished  at a delivery outside off-stump from Guyana captain and fast-bowler Ronsford Beaton for 7, to leave the score at 25 for 1.
In the next over Peters pushed medium pacer Clinton Pestano into the covers looking for a quick single and was sent  back by Shaquielle Martina but not before a good throw by Beaton ran him out for 7 with the score still on 25.
Number 4 batsmen Akeeme Saunders was then sent packing soon after leg before wicket for 1, playing around a straight delivery from Pestano to leave the Islanders precariously placed at 27 for 3.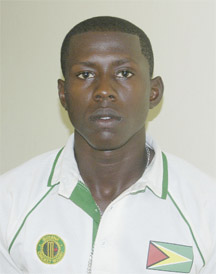 In came the skipper Cornwall, built like  a rugby player, and in partnership with Martina he began to bring a sense of normalcy and calm to the Leewards innings with a partnership of 49. Cornwall totally dominated with 43 off 36 deliveries. This included 5 boundaries and two massive sixes off Amir Khan into the mid-wicket boundary.
But Cornwall played one shot two many. In attempting another swipe off Khan he holed out to Dominic Rikki on the mid-wicket with the score on 86 for 4. His partner Martina was soon dismissed for 17 with the score on 88, as Guyana seized back the initiative in the opening session.
The Essequibo left-arm spinner then captured the wickets of Larry Audin  bowled for 1 and wicket-keeper Dymon Parris caught and bowled for a second ball duck, as the Leeward Islands collapsed to 90 for 7 with 15 minutes to go before the lunch interval.
A rain delay at 11:50 sent the players into  lunch with  Guyana in a commanding position having the Leewards in disarray at 90 for 7 in 25.3 overs.
At the resumption at 1:10 pm Guyana quickly ended the miserable Leewards 1st innings batting effort to bundle them out for 107 in 29.2 overs with Anthony Adams claiming figures of 4-16 and star leggie Amir Khan 3-39.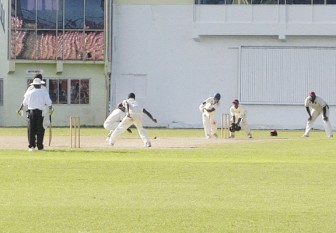 Guyana in reply suffered an early setback as hard-hitting opener Kevon Boodie was given out leg-before wicket first ball to a delivery which seemingly struck him outside the line of off-stump from medium pacer Cleon Reece.
The captain Cornwall then brought himself on to bowl his quick off-spin with a very casual action and immediately struck when he dismissed Berbice opener Kandasammy Surjnarine leg-before wicket, playing around an innocuous delivery for 14 to leave Guyana on 22-2.
The two most talented batsmen in the Guyana XI, Dominic Rikki and Chanderpaul Hemraj then joined forces and for a short while they seemed as if they would take control of proceedings, as Rikki especially was looking elegant in attack.
But Rikki threw his wicket away, hitting a full-toss from off-spinner Larry Audin down mid-on's throat for 27 with the score on 54 for 3 and that proved to be the last action before the tea interval at 3:10 pm.
In the final session vice-captain Kwame Crosse joined Hemraj and they safely took Guyana to a position of comfort as the Leewards bowlers lost their line and length bowling a plethora of full-tosses that Hemraj especially took advantage of.
Hemraj brought up his 50 in the 52nd over of 115 minutes with the Guyana total on 126 for 3, via a gorgeous cover-drive off left-arm spinner Wasim Mintos. He eventually closed the day on 72, with Crosse supporting him on 30 in an unbeaten 97 run 3rd wicket stand.
If Hemraj scores his century it will be the 1st hundred by a Guyana batsman in under-19 cricket since Demerara Cricket Club's  Trevon Griffith scored one in the 1st round of the 2009 tournament in Jamaica.
Umpires: Erickson Degalerie and Gyanandad Sukdeo (Pritipaul George), Reon King (Match Referee)
Guyana squad: Ronsford Beaton – * Captain, Kwame Crosse  – vice captain, Kevon Boodie + – wicket-keeper, Kandasammy Surujnarine, Dominic Rikki, Chanderpaul Hemraj, Jamal La Fleur, Anthony Adams, Ricardo Adams, Linden Austin, Amir Khan, Gudakesh Motie, Clinton Pestano, Loydell Lewis.
Leewards squad:
Rahkeem Corwall – * Captain, Akeem Saunders – vice captain, Dymon Parris + – wicket keeper, Elijah Peters, Shaquielle Martina, Wasim Mentos, Nino Henry, Cleon Reece, Chavil Archibald. Larry Audin.
Around the Web