The Guyana cricketers who finished third in the regional under-15 tournament in Trinidad, which concluded last Friday,  performed satisfactorily, according to squad manager Elroy Stephney.
Speaking to Stabroek Sport, Stephney said, "Generally the team performed in a satisfactory manner. We were hampered by weather in the first  round matches which initially affected our momentum early in the competition. But in the final two rounds we won outright".
With regards to the tactical aspects of the team's performance, coach Amsterdam highlighted his disapproval of the two innings 30 and 60-over format.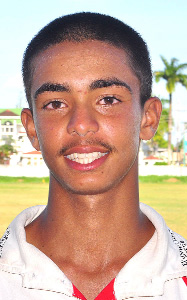 "The new 30-overs format that was introduced this year also posed a challenge for the batsmen as we struggled to find the best tactics to  adapt to it in the early rounds in terms of rotating strike, hitting the boundaries given that physically the boys weren't the strongest. Thus posting high enough 1st innings scores was a problem. But by the final two rounds the boys did adapt, as we were able to post totals above 250 twice.
"Overall though such a format is not really suited for youth cricketers and that is the sentiment that all the other coaches for the respective teams shared," explained Amsterdam.
The coach further went on to highlight the performance of a few players in the team that he tips to have a bright future such as Tagernarine Chanderpaul, son of West Indies and Guyana batting legend Shivnarine Chanderpaul, who was named Guyana's Most Valuable Player (MVP) at the end of the competition, and Malteenoes  leg-spinner Steven Sankar who finished as the 2nd highest wicket-taker in the tournament with 20 wickets.
Captain Brian Sattaur's performance was noteworthy although he struggled for form throughout the tournament.
Two other standout performers were Young Warriors batsman Shimron Hetmeyer  who was the only other batsman besides Chanderpaul to score more than 100 runs for Guyana in the competition and fast bowler Niall Smith.
Around the Web