Guyana will be heading to the Caribbean Basketball Confederation (CBC) Championships from July 23-29 in the Bahamas after a 10 year absence from the event. At a press conference yesterday held by the Guyana Amateur Basketball Federation (GABF) at the Waterchris Hotel, it was revealed that the trip for the 12-man squad will amount to four million dollars.
President of the GABF, David Patterson thanked all the sponsors for making the event possible for the team and wished the team wellas they will be departing tomorrow for The Bahamas.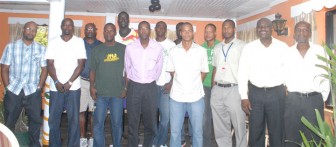 Patterson also expressed deep thanks to the basketball federation of Jamaica for providing accommodation for the team which will overnight in Jamaica at the University of the West Indies (UWI).
Vice president of the GABF, Floyd Levi said  he believes that Guyana's success at the event could not only rejuvenate basketball in Guyana but provide youngsters with motivation to train hard for the sport as the GABF plans to attend the championships every year.
"After 10 years Guyana is returning to the CBC championships and we plan to make it a regular event, we hope that everything goes well so it can be possibly rejuvenate basketball in Guyana and provide youngsters with the motivation to train," Levi stated.
With Guyana being a young and inexperienced team, manager of the team Ewart Padmore and coach of the team Robert Cadogan said that while the team might not have played basketball at such a level, they still expect the players to do well because of their talent and chemistry.
Guyana will play their first game on Sunday against Turks and Caicos while they will have to go through Jamaica, The US Virgin Islands and Antigua on Monday, Tuesday and Wednesday respectively which will determine how they advance after their win/loss record.
Squad: Steve Neil Jr. (captain), Kurt Ellias, Dwayne Roberts, Stephon Giddings, Ryan Gulling, Ryan Stephany, Keran McKenzie, Shane Webster, Rodwell Fortune, Akeem Kanhai, Royston Silan and Neil Marks.
Around the Web