Guyana's Under-19 cricket team completed a convincing innings and 27-run win over the Leeward Islands in  their opening round clash of the 2011 West Indies Cricket Board (WICB) three-day competition at the Providence National Stadium yesterday.
Scores: Leeward Islands 112 (Rahkeem Cornwall 43, Anthony Adams 4-16) and 183 all-out (Cornwall 49, Akeem Saunders 44,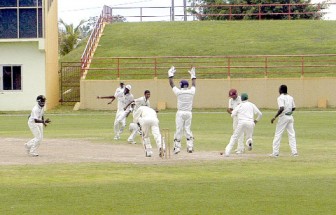 Gudakesh Motie-Kanhai 4-57, Amir Khan 3-43).
Guyana 317 for 9 declared (Chanderpaul Hemraj 88, Kwame Crosse 61, Rahkeem Cornwall 4-83).
The Leewards, who resumed the final day's play on 112 for 6, needing a miracle to prevent an innings defeat, slowly added 19 runs in the first hour of the opening session, as captain Cornwall and number eight batsman Nino Henry went into survival defensive mode.
But with score on 131, Cornwall, one run short of a  half-century, attempted the first aggressive shot of the morning off left-arm spinner Gudakesh Motie-Kanhai. He was, however, deceived by the flight of the delivery and sent a gentle return catch to the bowler.
His 49 spanned 111 balls and was decorated with six fours and one six.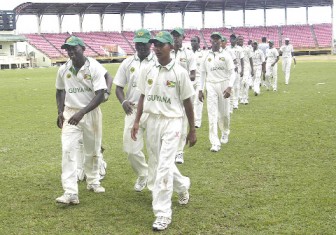 From there on Guyana's spin duo of Amir Khan and  Motie-Kanhai ran through the remainder of the Leewards lower-order.
A slight slog-fest, 41-run partnership between Henry (33) and tail ender Wasim Mintos (21) slowed Guyana's charge before Motie-Kanhai then snared both Henry and number 11 Chavil Archilbald in the 61st over to complete Guyana's victory.
Speaking to Stabroek sports at the end, manager, Raymond Barton, said…."I thought the team performed well.
The fact that we bowled the Leewards out in the first innings so quickly really aided us in taking control of the match and executing our plans which  was to bat in partnerships and basically all of the batsmen did that, although (Chanderpaul) Hemraj and Kwame (Crosse) would have been disappointed not have carried to score centuries, while the lower-order batted well as you saw with the performances of (Ronsford) Beaton and (Clinton) Pestano, which shows that we really have no mugs with the bat in this team," said Barton confidently.
When asked about the only blemish that of the failures of his openers Kevon Boodie and Kandsammy Surjnarine, which was a problematic area for the Guyana side coming into the tournamen, the coach reaffirmed his continued confidence in them to come good in this competition.
"Overall though as the tournament progresses we will clearly face stronger teams and at this stage early stage we are just looking to maximize on our strengths and minimize on our weaknesses and once we do that I expect this team to give a good account of itself in this competition."
The young Guyanese are next in action tomorrow at the GCC Ground, Bourda where they will battle with the Jamaican team, who also claimed a convincing 10-wicket opening round victory over reigning 50-over champions Trinidad and Tobago.
Around the Web