LONDON, (Reuters) – England left-arm spinner Monty  Panesar has been bowling at Sachin Tendulkar in the Lord's nets  as the Indian master prepares for the first test starting at  world cricket's headquarters today.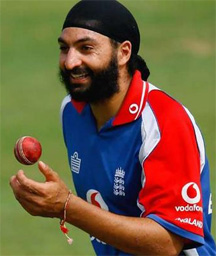 Alan Duncan, the assistant coach for the Marylebone Cricket  Club's young cricketers, told Reuters yesterday that Tendulkar had been practising for two hours a day at Lord's  since July 4.
He said Panesar, who was a member of the successful Ashes  squad in Australia this year, and former Surrey left-armer Nayan  Doshi had both bowled in the nets to Tendulkar, who is one  hundred away from becoming the first man to score 100  international centuries.
Duncan said he, himself, had given Tendulkar regular  throwdowns.
"He wanted to check that his balance was right and that he  was playing the ball under his eyes," he said.
India captain Mahendra Singh Dhoni said Tendulkar at the age  of 38 still retained his passion for the game.
"Every time he turns up on the field he wants to improve his  game," Dhoni told a news conference.
"He may have spent 1-1/2 hours in the field, but in that  time he makes sure he is learning something and when he goes  back to the dressing room he can proudly say today's time I  utilised to the best.
"He tries to keep it very simple, doesn't complicate things,  overall I think he's an ideal cricketer to look up to, the way  he has conducted himself on and off the field.
"He has remained the same for the last 21 years."
Around the Web