During the 75-year Test history at the famous GCC Ground, Bourda from 1930-2005, it was common trend to see many of the 31 Test matches at the venue interrupted by heavenly downpours.
However, given the majority of international and regional cricket since 2005 has been moved to the drainage efficient Providence Stadium, such a quandary in the last few years seemed to be something of the distant past.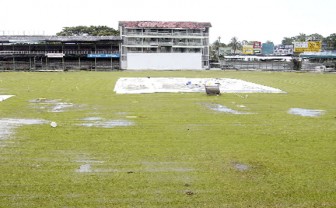 But a blast from the past was rekindled yesterday as the first  day of Guyana's Under-19 cricketers, second round clash versus  Jamaica in the 2011 West Indies Cricket Board (WICB) regional under-19 tournament was washed out, without a ball being delivered.
Play for day was called off at 1:10 pm by umpires Nandkumar Shivsankar and Erickson Deagalerie who deemed it impossible for any cricket to commence for the day on the heavily water-logged outfield.
Both the Guyana coach Hubert Evans and Jamaica coach the former West Indies opener Robert Samuels expressed disappointment that there was no play but said they hoped that Mother Nature would be kind to them over the next two days, so that action could be possible.
However with the weather forecast for the next few days looking extremely bleak, such optimism may be short lived.
Play today weather permitted is scheduled to continue at 9:30 hrs.
Around the Web