MUMBAI, (Reuters) – India seamer Zaheer Khan needs  surgery for ankle and hamstring problems and has been ruled out  for the remainder of the England series, the Indian cricket  board (BCCI) said yesterday.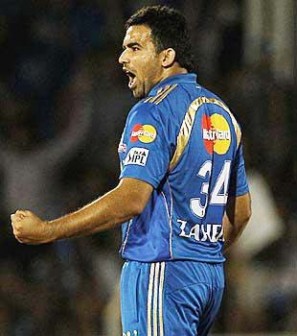 Left-arm paceman Rudra Pratap Singh will replace Zaheer for  the remaining two tests, a Twenty20 and five one-day  internationals.
Zaheer, 32, would need up to four months to fully recover,  the BCCI said in a statement.
The left-arm paceman, who missed India's full tour of West  Indies due to the ankle problem, had to leave the field on the  first day of the series at Lord's and subsequently missed the  second test at Trent Bridge.
"Zaheer Khan is suffering from a recurrent right hamstring  strain and a right ankle impingement," BCCI secretary N.  Srinivasan said. "He will require a surgery for his ankle,  followed by intensive rehabilitation for both the ankle and  hamstring.
"He will need at least 14-16 weeks to recover completely."
India's leading seamer had been named in the squad for the  limited overs series but was ruled out after only managing to  bowl three overs in a tour game against Northamptonshire.
Replacement RP Singh has not played for India in any form of  cricket since September 2009, with his last test match being  against South Africa in April 2008.
"The all-India senior selection committee has picked RP  Singh as his replacement in the Indian squads for the test  series, and the T20 international and ODI series," Srinivasan  said. "RP Singh will join the team at the earliest."
India have been grappling with injuries during the tour and  missed their top opening batsman Virender Sehwag in both tests  because of a shoulder injury.
Sehwag's regular opening partner, Gautam Gambhir, missed the  second test with a bruised arm which forcing a batting order  reshuffle.
Off-spinner Harbhajan Singh and batsman Yuvraj Singh have  also been ruled out for the rest of the tour after suffering  injuries during the second test at Trent Bridge.
Left-hander Yuvraj fractured his index finger after he was  hit by a short-pitched delivery from England seamer Tim Bresnan  while Harbhajan suffered an abdominal muscle strain in the same  match.
India, the ODI world champions, trail England 2-0 with two  more tests left in the four-match series.
Around the Web