In sport it is always felt that  a group stars in a XI does not make a team win but 11 players working together will.
The Universal DVD Club Berbice Titans gave that theory further weight Friday night at the Providence National Stadium when they upset the much-fancied Hits and Jams Super Stars.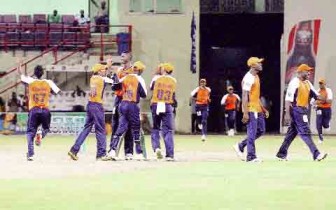 The Super Stars team included Jamaicans Chris Gayle, Danza Hyatt, Andre Russell and Trinidad and Tobago's Dwayne Bravo.
But, like true Titans, the Berbicians walked away with a tense one-run victory in the second semi-final
to book a place in tonight's final against Georgetown Pitbulls at the same venue.
Scores in the matches: New Line Cavaliers 114-8 (Lendl Simmons 41 Mahendra Nagamootoo 21, Sulieman Benn 3-19, Keiron Pollard 2-6). Georgetown Pitbulls 115-2 off 17.5 overs (Trevon Griffith 47, Andre Percival 2-19)
Universal DVD Club Titans 150 for 8 (Jonathan Foo 22, Rajiv Ivan 22, Andre Russell 2-16, Chris Gayle 2-34) Hits and Jams Superstars 149 all out (Danza Hyatt 34, Dwayne Bravo 22, Esuan Crandon 3-23, Davendra Bishoo 2-20).
The highly anticipated second semi-final saw the spectators packing the venue to its near capacity to see the Royston Crandon-led Titans defend their national T20 crown which they won last year in the s four (4) team competition organized by DJ Stress.
Winning the toss and opting to bat first, the Titans were in a spot of bother at 51 for 6 in the 11th over, losing Anthony Bramble (08), Richard Ramdeen (15), Assad Fudadin (10), Devon Clements (07) and skipper Royston Crandon (06).
The Berbicians were noticeably looking vulnerable to a short pitched line of attack, that was well executed by Russell and Bravo, as captain Tyrell Tull had a short-leg in place for much of this period.
Caribbean T20 batting sensation Jonathan Foo duly came to his team's resuce.
Foo struck two sixes in one over from Seon Daniels and the same number of fours from the eight deliveries he faced for his 22 while  Rajiv Ivan (22) and Veerasammy Permaul, 16  not out with three fours, took the Titans to a competitive total.
Russell, Leon Johnson and Gayle took two wickets each for 16, 20 and 34 runs respectively for the Superstars.
All eyes were on Chris Gayle when the All Stars came out to bat and the early signs were ominous as he raced to 18, striking both Permaul and Esaun Crandon for huge sixes in the first three overs, as the crowd predictably went into a frenzy. But in attempting to hit Crandon for a third six over extra-cover, he hit a skier into the Providence night sky, only to land in the palms of a gleeful Devon Clements at mid-off. Krishna Deosarran (05) followed shortly after, when he was bowled by Royston Crandon and when West Indies leg spinner Devendra Bishoo rattled the stumps of Bravo who struck two fours and one six in his 22, followed by the demise of Johnson (02), the Superstars were 52 for 4.
Hyatt came and blazed his way to a top score of 34 that included two sixes and one four before he was caught at the wicket by Bramble off Royston Crandon while Robin Bacchus (11) and Troy Gonsalves were both sent to the pavilion, leaving the Superstars on 106 for 6.
They needed 19 runs from 18 balls with Russell (13) being joined by his skipper and former national T20 wicketkeeper batsman Tyrell Tull (10) but the former was bowled by Bishoo in the penultimate over, leaving Tull, Raj Nannan and Seon Daniels to score 13 off the final over which was bowled by Brandon Bess.
Even though he bowled a wide delivery that went for four off the third ball, the Superstars lost both Tull and Daniels (02) via the run out route, to fall short by two runs, handing the Berbicians a tense victory.
Royston Crandon with 3 for 23 and Bishoo 2 for 20 were the cheif wicket takers for the team for the Titans.
In the first semi-final, the Christopher Barnwell led Georgetown Pitbulls in the absence of Ramnaresh Sarwan, whose lineup included questionably discarded West Indies players Sulieman Benn, Jerome Taylor along with Keiron Pollard and Jamaican left-arm quickie Krismar Santokie, defeated the New Line Cavaliers by eight wickets to book their place in the final also.
The New Line Cavaliers who had in their lineup the Barbadian trio of Dwayne Smith, Fidel Edwards and Alcindo Holder along with Lendl Simmons from T&T, were limited to 114 for 8 from their 20 overs.
Simmons led the batting with 41 (3×4; 1×6) and received support from Mahendra Nagamootoo 21 (2×4; 1×6).
Benn and Pollard ended with 3 for 19 and 2 for 6 respectively for the Pitbulls, who despite the absence of their appointed skipper Sarwan, reached their target with 2.1 overs to spare. Former West Indies Under-19 opener Trevon Griffith blazed his way to an impressive 46-ball, 47 that was decorated with seven fours, before he was brilliantly caught by Smith who had to dive forward at long on via the innocuous spin of Andre Percival.
Barnwell 19  not out, Shemroy Barrington 17 and Steven Jacobs 16 not out, saw their team home without much trouble.
Today is the final day of action, with the gates opening from 1400hrs, while the action bowls off at 1600hrs with the Hits and Jams Superstars facing New Line Cavaliers for the third place.
Around the Web