Dyna's Bravados and Fire Links cricket teams have advanced to the Super 16 stage of the Kares Engineering/Bushy Park Sawmills 10/10 Tapeball Cricket Competition when play in the East Bank Zone ended yesterday at the Diamond Community Centre ground.
In the first of two finals, Fire Links produced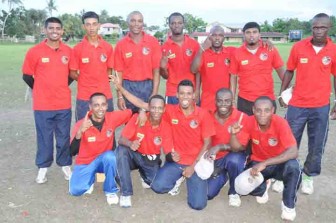 a consistent performance to eliminate Road Warriors by 25 runs.
In the second final, Dyna's Bravados recovered from a slight wobble to beat Digital Technology by 34 runs.
Batting first, Fire Links reached 74-6 off 10  overs before restricting Road Warriors to 49-3.
Dyna's Bravados in their match against Digital Technology posted a respectable 71-7, before restricting their opponents to 37-8 in reply.
Earlier, at Farm ground, Fire Links defeated Vibrence by 7 wickets.
Vibrence made 50-4 with R. Persaud hitting 24 while Fire Links in reply, reached 52-3 off 6.1 overs.
Dyna's Bravados then beat Laluni Tigers by 64 runs.
Dyna's Bravados compiled an imposing 106-4 and then contained the Tigers to 42-7.
At Diamond, Digital Technology beat Juice Power by 60 runs.
Digital Technology made 111-8 with Naipual Ragunandan striking 33.
Juice Power, in reply fell for 51 in 9.5 overs.
Pine Stars went down to Back Road Boyz by 7 runs.
Back Road Boyz made 72-9 with Danny Narayan belting 26.
Pine Stars, in reply, were shot out for 65 off the allotted overs. D. Ramsamooj stroked 27.
Digital Technology survived a scare to beat Samantha Point by 11 runs.
Digital Technology made 84-8 with N. Ragunandan again amongst the runs hammering 31.
Samantha Point in reply scored all out for 73 in 9.5 overs. A. Fazal clouted 31.
Meanwhile, the organisers said that tickets for the mega concert which will follow the finals to be played on September 4, at the National Stadium began selling on Friday at most of the popular outlets.
They are advising that patrons needing to buy tickets could check the daily papers for more information as early as possible.
Artistes expected to perform are Shaggy, Riki Jai, Peter Ram, Mahendra Ramkellowan and other local entertainers.
Around the Web