BIRMINGHAM, England, (Reuters) – England surged to  the top of the world rankings after crushing India by an innings  and 242 runs in the third test yesterday to secure their sixth  consecutive series win.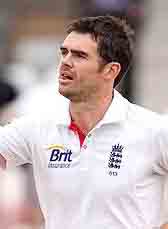 Fast bowler James Anderson claimed four for 85 as India were  dismissed for 244 after lunch on the fourth day at Edgbaston,  giving the home team a 3-0 lead in the four-match series.
India's batsmen capitulated for the third successive match  against England's penetrative attack.
Captain Mahendra Singh Dhoni was India's top scorer for the  second time in the test, with 74 not out, but the game was over  when Shanthakumaran Sreesanth edged Tim Bresnan to Kevin  Pietersen in the gully.
"There's not many bowling units better than ours in the  world," said home captain Andrew Strauss at the presentation  ceremony after his side clinched their fifth biggest victory by  an innings.
"It's been a goal of ours to reach the top of the rankings  for a long time. It's a great testament to everyone involved in  the England set up and fills me with a lot of pride."
England's series victory takes them top of the test rankings  ahead of South Africa and previous leaders India.
With the sun shining and the pitch encouraging spin, India  were presented with good batting conditions to stage a fightback  but were unable to cope with Anderson.
They resumed on 35 for one and the fast bowler had opener  Gautam Gambhir (14) caught by Graeme Swann at second slip off  the batsman's first ball of the day.
The score then became 40 for three when the usually reliable  Rahul Dravid (18) edged behind off the same bowler.
Anderson reserved his best delivery for VVS Laxman (2) as he  shaped the ball from middle stump to off and found an edge to  the wicketkeeper.
That was 56 for four and it became 87 for five when Suresh  Raina (10) was lbw to Swann.
Master batsman Sachin Tendulkar (40) looked at his best for  the 95 minutes he occupied the crease, hitting eight boundaries  including an elegant straight drive off Bresnan.
But he was dismissed in the cruellest of fashions when a  Dhoni drive was deflected on to the non-striker's stumps by  Swann's fingertips. Tendulkar was just out of his ground and the  third umpire sealed his fate.
Among the rattle of wickets perhaps the most bizarre sight  was wicketkeeper Matt Prior opting to don a helmet and stand up  to Anderson as a tactic to prevent Tendulkar from standing  outside his crease. It lasted one ball.
After lunch Amit Mishra's brief resistance ended when he  drove Swann to mid-on for 22.
Praveen Kumar went down fighting with 40 from 18 balls with  three sixes.
He added 75 for the eighth wicket with Dhoni from just 44  deliveries before mis-timing a pull against Stuart Broad to be  caught at cover.
Broad then trapped Ishant Sharma lbw for a duck and Bresnan  removed Sreesanth.
Around the Web