The boys from the Land of Flying Fish made it five wins out of five  en route to dethroning 2010 winners Trinidad and Tobago as the regional limited overs champions with a commanding nine-wicket win at the Demerara Cricket Club (DCC) Ground, yesterday.
This is Barbados's first Regional Under-19 limited overs title since 2004 when a Renaldo Parris led side, clinched the title in Jamaica.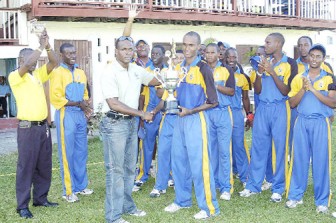 Matches between Barbados and Trinidad at all levels of Regional cricket are always feisty and with both sides coming into yesterday's match first and second in the table respectively, a lively encounter was expected.
When Barbados skipper Kraigg  Brathwaite  won the toss he immediately chose to bowl first in the game which kicked off at 9am in early morning windy conditions, on pitch that had a bit of bounce in it.
However, the Trinidad opening pair of West Indies Under-19 opener Keiron Joseph and Christian Herrera, got the defending champions of the solid if not spectacular start of 52 runs in 16 overs against a Barbados attack missing their West Indies Under-19 pacer Jerome Jones for the second consecutive match.
Both openers were dismissed in the space of five balls; firstly, Joseph, attempting an ugly swipe across at a delivery from Brathwaite then secondly, Herrera was caught at the wicket to be the first of Jermaine Greaves five victims for the afternoon, to leave Trinidad 52/2 in the 17th over.
At this stage of the innings the introduction of the Bajan trio of off-spinners in Chaim (pronounced Shem) Holder, Anthony Alleyne and Braithwaite began to curtail the momentum of the Trinidad innings, even though they went wicket less for 20 overs during a 60-run, third-wicket partnership between batsmen Emmanuel Lett and Akeal Hosein, that was threatening to revive the Trinidad innings.
The dismissals of these two batsmen in the space of two overs both falling to the impressive Holder, triggered a batting collapse which saw them lose their last six wickets for 70 runs to be bowled out for 193, thanks to some brilliant overs from Justin Greaves bowling at the `death'.
He finished with 5-37.
It was a wonderful tournament for Greaves who has been the standout quick-bowler in both the three-day and limited overs competitions as he complemented the 16 wickets he took in the three-day format with nine in the 50 overs matches.
Barbados, in reply, led by the highest opening partnership of the competition of 150 between captain Braithwate and Johnatan Drakes were  soon sailing smoothly towards victory.
But with a hundred at his mercy Drakes prodded at one outside the line of off stump to be dimissed for 84 (117 balls, 9×4, 2×6).
Anthony Alleyne joined skipper Braithwaite and they duly eased to the paltry required runs.
Braithwaite, quite fittingly, finished the game off when he whipped medium pacer past mid-on for four to complete the rout in 42.4 overs.
It was a full Bajan dominance in the statistics as Braitwaite topped the batting charts with 297 runs, with three half-centuries at a Bradmanesque average of 99.
Speaking to Stabroek Spors at the end, Barbados coach, Dexter Toppin spoke in adulation of his team's performance.
"This is a richly-deserved victory for these young men. We are a very happy team today. To come here and win all five matches, all in convincing fashion, shows the strength of the team and depth in the team. We were a bit disappointed when we lost to Jamaica in the three-day tournament, and you could say that match cost us the title, but we re-grouped and stuck to our plans in the one-dayers and we came out victorious," Toppin said.
"We deserve to take something home with us. The lads played with great confidence and we were we led by Kraigg at the top. He led from the front and once he is batting well the team always does well. He stood out in the one-day tournament. Justin bowled really well and did all that was asked of him. He came into today's match with a shoulder injury but was still able to give us a big effort and stood up for Barbados," he added.
Later on the West Indies cricket board will select the squad to represent the West Indies in the youth World Cup in Australia next year. Before this tournament, a youth squad was on tour of the United States for a few official youth one-day internationals, so it will interesting to see which of those players retain their place and which new players will be selected.
Around the Web