The Queensway-sponsored 2011 Georgetown Cricket Association (GCA) Open 50 overs Knockout Cricket competition was launched yesterday during a small ceremony at Value Maxx office on Regent Road and Oronoque Street, Bourda.
The Master of Ceremonies, GCA Vice-President Neil Barry, introduced the head table which had GCA executives President Roger Harper, Secretary Deborah Mc Nichol, Competitions Committee Chairman Shaun Massiah, Public Relations Officer Colin Alfred and  Queensway Managing Director Mohamed  Qualander.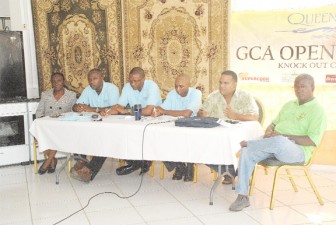 Some of the important initiatives highlighted by Barry and Harper especially include the emphasis on fast-bowlers, in which all teams will be expected to bowl their fast-bowlers for 40% of the allotted 50 overs. "At this developmental arm of Guyana cricket we recognise the area of fast-bowling traditionally is the  weak area in our cricket. Too many times as I'm sure we all can attest to, in watching teams from senior to junior levels, we see a common trend of a fast-bowler bowling a few overs with the new ball, only to make way for a proliferation of spinners later in the innings. So we hope the specific targeting of fast-bowler development … will give the players incentive to want to bowl fast, so we can have a quality production line of quick bowlers in the future for Guyana," Barry explained.
They Queensway group which had sponsored the competition last year under the name "Haier Cup" also saw its Director Mohamed Qualander express  his pleasure at being associated with the GCA and this tournament for the second year running.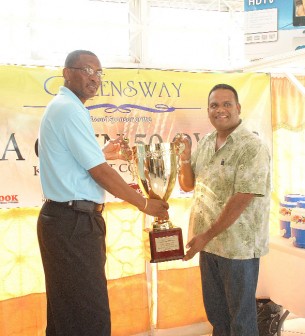 "The Queensway group of companies is a family business of over 20 years that deals with electrical appliances and  licensed firearms and most notably we were pleased with the cup competition last year and we are very happy to be involved again. My aim is not to make the publicizing of Queensway the forefront, but rather to provide an avenue for players to showcase talent,"  Qualander said.
In closing all the GCA organisers asked the players to play with passion in order to have an exciting competition.
Meanwhile, the competition has a total of 16 of the GCA clubs and  will be played under official international limited overs rules, with  power-plays and free-hits for no-balls.
At the end of the tournament many prizes will be awarded for MVPs in the preliminary round, semi-final and final, along with awards for the highest individual score, most runs, best bowling analysis, most wickets, most centuries and most catches.
The opening match gets underway today between GCC and Everest at the Everest Cricket Club Ground, Camp Road from 9:30hrs.
Around the Web