NEW DELHI, (Reuters) – As India cries out for a pace  bowler to add some much-needed bite to its depleted attack, one  man in the frame to become a future new ball spearhead believes  speed alone cannot guarantee success.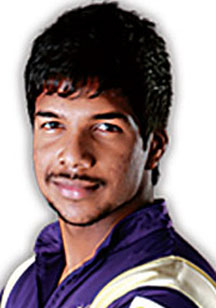 Mahendra Singh Dhoni may be Jharkhand's most notable  contribution to Indian cricket but Varun Aaron was able to share  some of the skipper's limelight earlier this year when he bowled  what many believe to be the fastest delivery by an Indian.
The 21-year-old sent down a 153 kph delivery in the Vijay  Hazare Trophy final and can consistently bowl at speeds rarely  seen in a land starved of genuine pacemen, but Varun believes he  has a lot more to his repertoire than just raw power.
"Speed… okay, you got to bowl quick but it troubles  international batsmen only to a certain extent. After that, they  adjust pretty easily," Varun told Reuters in a telephone  interview.
"You got to have a few tricks up your sleeve and you got to  bowl at a good line and length consistently to get wickets."
The youngster's emergence comes at a time when England have  not only stripped India of their test number one status but laid  bare the frailties of the tourists' pace attack in the ongoing  four-match series.
Varun would have plenty to admire from the home side's  formidable attack and had India not been robbed of lead paceman  Zaheer Khan though injury, the battle may have been a more even  one.
"Fast bowling is something people pay to watch," he added.
"When a quick bowler is in good rhythm and is giving the  batsman a torrid time, it's fun to watch. At the end of the day,  it's what people want to watch.
"But even genuine fast bowlers have to have the right line  and length. Everybody assumes that if somebody is quick, he has  got to bowl here and there.
Former Pakistan skipper Wasim Akram is so convinced of  Varun's ability that he wants Indian selectors to fast-track his  path to the senior side.
"If India think he should play domestic cricket for two more  seasons before being picked, they are wrong," Akram wrote in a  recent newspaper column, speaking from first-hand experience of  working with Varun as his bowling coach at the Kolkata Knight  Riders in the IPL.
Around the Web