KARACHI,  (Reuters) – Former Pakistan captain Shoaib  Malik has been cleared of wrongdoing in an integrity  investigation and can be considered for international selection  again, the Pakistan Cricket Board (PCB) said yesterday.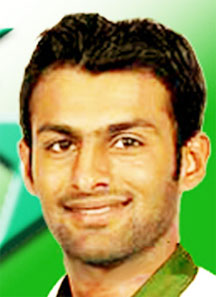 Malik had been under scrutiny since December as the PCB's   integrity committee sought clarification from him about deposits  in his foreign bank accounts.
"Shoaib Malik was directed to provide complete information  supported with relevant documents regarding the source of the  said deposits, which he did provide," a PCB statement said.
"The committee reviewed all the material in detail and also  verified the veracity of the said information from relevant  authorities.
"The integrity committee after detailed deliberations has  unanimously reached the conclusion that prima facie Shoaib Malik  has been able to establish that the said deposits in this  overseas account did not emanate from any questionable source or  activity," the statement added.
"As against that no incriminating material to the contrary  was available on the record hence Shoaib Malik is hereby cleared  by the integrity committee."
The 29-year-old Malik, who has played 32 tests and 192  one-day internationals, last played for Pakistan in England last  year.
The allrounder has been named among the reserves for  Pakistan's coming tour to Zimbabwe and chief selector Mohsin  Khan said the selectors would soon decide if he should be  considered for the main team.
"He is now cleared by the board and being a senior player  who has done well in domestic cricket is a serious contender for  a comeback to the team," Khan said.
Malik, who led Pakistan between 2007 and 2009 before being  stripped of the captaincy on disciplinary grounds, said he was  delighted to clear his name.
"It has been a very hard few months for me because not  playing for Pakistan was a huge gap in my life. But it is great  to be cleared and hopefully now I can start focusing on my  comeback," he told Reuters.
The committee has yet to rule on a similar case involving  test leg-spinner Danish Kaneria.
Around the Web