Albion Community Centre yesterday defeated Leguan's Young Warriors by eight wickets in the Kares Engineering/Bushy Park Sawmills 10/10 Tapeball tournament at the Georgetown Cricket Club (GCC) ground, Bourda.
That match had the many patrons that thronged the ground envisaging a Georgetown Pitbull/Albion finale at the Guyana National Stadium on September 4.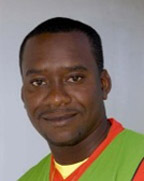 However, the Berbicians, 'Kings' of the T20 version of the game, hold the advantage in the hearts of the fans since their win was more clinical than the Pitbulls, who had beaten Cotton Field Wild Oats by 44 runs earlier in the day.
The fans cheered for the Berbicians every step of the way, with one group saying that "you can't use sheep to beat horses."
Young Warriors took first strike and were restricted to a meagre 53-7 from their allotted 10 overs.
Their two top batsmen Simon Persaud and Aseeb Khan were only able to contribute 16 (1×6) and 14 (1×6) respectively and even the others found it difficult to get the ball away.
Harrinarine Chattergoon was the pick of the bowlers with 3-11 for Albion. In reply, the Albion opening pair of Harrinarine and Ramnarine Chattergoon started with a flurry before Ramnarine was caught behind for six.
Harrinarine (15*) continued with Jonathan Foo (8) and Hardat Ramdeol, who was left not out on 21 as their team cruised to 54-2 in 3.5 overs.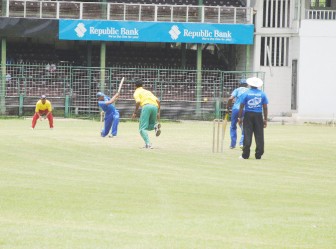 Meanwhile, the Pitbulls won the toss and started with a boundary through backward point off the bat of Christopher Barnwell, who would go on to make an aggressive 47, which included four fours and three sixes. Barnwell's recently selected West Indies partner Derwin Christian stroked 30 (3×6, 2×4) while former West Indies opener Trevon Griffith blasted an unbeaten 22 (3×6) in the last over as their team reached an imposing 123-4.
Cotton Field Wild Oats could only muster 80-5 due primarily to the easing of the pressure by the Pitbulls, whose captain in the last over of the match placed all his fielders in the slips. Navindra Mandholall top scored with an undefeated 29 (5×4) while he got support from Shivanand Mandholall who was left undefeated on 24 (1×4, 2×6).
Barnwell and Trevor Benn were the wicket takers with one apiece.
In another Super Eight match Invaders defeated Firelinks by 31 runs. Invaders, batting first, made 114-5 with Ganesh Narine scoring 61 (4×4, 5×6) and Harrinarine Bissoondyal contributing 26 (2×4, 1×6). In reply Firelinks reached 83-7 with Imtiaz Ali making 26 (3×6) and Ariel Hussein, 25; Amir Mahmood and Khemraj were the wicket takers with 2-15 and 2-29 respectively.
In the ladies match Wellwoman got the better of Rising Star by nine wickets. Abena Parker and Onika Wallerson made unbeaten scores of 37 and 11 respectively as they made 59-1, chasing Rising Star's XI 56.
Roshena Harper made 16 for Rising Star while extras accounted for 27 runs.
Around the Web