VISAKHAPATNAM, India, CMC – Legendary West Indies fast bowler Courtney Walsh says he views his role as Under-19 team manager, as key in helping to develop West Indies cricket by helping to groom the next generation of players.
The 48-year-old, West Indies' leading wicket-taker in Tests, is part of the management team for the Under-19 as they contest the quadrangular 50-over tournament here.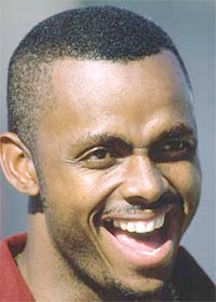 "I am like a father figure to the boys in the team. I am here as team manager to handle the administration of the team but I am also here to impart whatever knowledge I can on these young men as we seek to develop West Indies cricket," Walsh said.
"For me, here is a good place to start as I try to give back to West Indies cricket. I have been doing coaching and assisting at the junior levels in Jamaica and being here with the West Indies Under 19 Team is a great joy for me.
"I am just happy to help and make a meaningful contribution to the development of the players in West Indies cricket."
Walsh is considered one of the finest servants of West Indies cricket, having taken 519 wickets from 132 Tests in a career spanning 17 years. In 205 one-dayers, he nabbed 227 wickets.
The Jamaican, who also led the Under-19s on their three-match series against United States in Florida last July, said he was impressed with the crop of players under his watch.
"I believe once the players get the help that is required we have some very good players in the making here," he said.
"I always urge them to give their best. I told them to have strong self belief and maximise their good days.
"There will be some days in a cricketer's life when a batsman can't get a run or a bowler just can't get a wicket, so my advice to them is when you are in form and things are going your way, you must capitalise and go big with both bat and ball."
Despite his administrative role, Walsh said he had enjoyed passing on valuable technical knowledge to the young players.
"The players have indicated they are happy to have me around and I enjoy working with them. They are a great bunch of young men," said the former West Indies captain who was last year inducted into the ICC Hall of Fame.
"They have been picking my brain and trying to gain as much knowledge as they can about the game and the different conditions they will encounter. It has been a tremendous learning experience for me as well as I get a hang of the things."
Around the Web