Malteenoes were eight runs ahead at the end of the opening day of the Carib Beer/Friends of Cricket Heroes Cup, two-day, first-division match against the Georgetown Cricket Club (GCC) at the Demerara Cricket Club (DCC) Ground, yesterday.
GCC, batting first, were bowled out for 218 in 43 overs with former Demerara Inter-County representative Waslim Haslim scoring a century.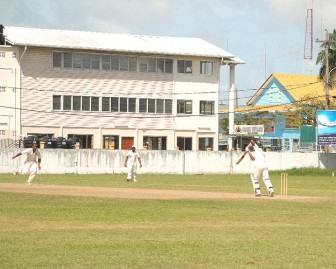 Haslim, who also recently had stints playing league cricket in Canada, was the backbone of the innings  with an impressive knock  of 118 which was decorated with 10 fours and seven sixes.
Jeetendra Sookdeo and Robin Bacchus, who scored 24 runs each, supported Haslim.
Former national limited overs all-rounder Dion Ferrier was the pick of the bowlers for Malteenoes with figures of 5-62 from 14 overs while Orin Forde, a  non-playing member of the 2006 Guyana Stanford Twenty20 winning side and Shaquille Williams took 2-34 and 3-10 respectively.
In reply Malteenoes closed on 226 for 7 with Ferrier completing a fine all-round performance to be unbeaten on 86. Former Guyana Under-19 players Kellon Carmichael, Danny Narayan and Kwame Crosse were the other significant scorers with 44, 37 and 25 runs respectively.
Demerara Under-19 left-arm spinner Raj Nanan was the principal wicket-taker for GCC with  5 for 39.
At the Eve Leary Ground, in the other first-division match between Guyana Defence Force (GDF) and Police Sports Club (PSC), GDF held the edge at the end of the day's proceedings.
Winning the toss and batting GDF got a solid start from Paul Castello and Shemroy Barrington who put on a 70 runs for the first wicket.
But their eventual dismissals both for 44, saw the GDF innings falter and the team was eventually dismissed for 198 in 47.4 overs.
Guyana Under-19 opener Kevon Boodie contributed 39.
Leg-spinner Pernell London had the best bowling figures for Police with 4-44 from seven (7) overs.
Police, in their reply,  had slipped to 143 for 8 by the close of play with Rawle Brown (38), Troy Benn (29) and Ryan Rajmangal (23) being the main scorers. Amir Khan (not the Guyana Under-19 player) and Randy Lind had identical bowling figures of 3-37 while  Barrington chipped in with 2-42.
Play in these two matches continues today from 9:30hrs.
In the Noble-House Seafoods second division, two-day competition three (3) games were played around Georgetown.
At the Guyana National Industrial Corporation (GNIC) Ground,; 20 wickets fell on day one which ended with the hosts claiming first innings honours over Ace Warriors.
Taking first-strike Ace Warriors made 191 all out, with Clint Jones top scoring with 82. He received support from Anatoli Gafoor (32) and Rawle Enmore (29). Off-spinner Premchand Sookdeo (3-38) along with medium-pacers Matthew Marks (2-23) and Elton Baker (2-48), were the chief wicket-takers for GNIC.
In reply, GNIC were bowled out for 204, with Marks top scoring with 43. Gafoor and Jones, bowling left-arm orthodox and medium pace respectively, came back to secure figures of 6-79 and 3-56 for Ace Warriors.
Up the road at Gandi Youth Organization (GYO) ground, Transport Sports Club closed day one with a commanding 140-run first innings advantage over GDF.
The GDF second division side, batting first, was scuttled out for 108 in 29.4 overs. Mark Haynes was the only batsman to put up any resistance scoring 42, while off-spinner Azim Azeez (5-25) and Georgetown Cricket Association (GCA), competition committee chairman Shawn Messiah, bowling military medium-pace (3-25), had the best bowling numbers for Transport.
Transport, in reply, was bowled out for 248 in 36.4 overs. Leon Peters top scored with 45. Medium-pacer Roger Aaron had figures of 11-3-63-6 for GDF.
Finally at the University of Guyana ground; another match game where  wickets tumbled – 23 to be exact, closed with Everest holding the edge at the end of the opening day.
Batting first Everest was shot out for a mediocre 117 in 38.4 overs. Khemraj Ramdeen and Ryad Sattaur with 28 and 24 were the principal scorers.
Left-arm orthodox spinner Latchman Persaud (6-25) and medium Alex Andrew (3-19) were the bowlers responsible for that wreckage.
Police, in reply, put up an even worse batting effort, as they were blown away for just 56 in 17.2 overs, with medium pacer Shane Rakeram dismantling their batting line-up with figures of 7-14 from nine overs. In their second innings, Everest are currently on 36 for 3.
Play in these second-division matches continues today from 10:30hrs.
Around the Web