Guyana's golfers performed creditably at the recently held RBC/RBTT Suriname Open tournament played at the Paramaribo Golf Club.
Reigning Guyana Open women's champion Christine Sukhram placed third overall in the ladies flight, teenage golfer Avinda "Ganguly"  Kishore was seventh in the 'men's A'  Flight while Rawle Moore and Brian Hackett tied for fifth place in the 'B' Flight.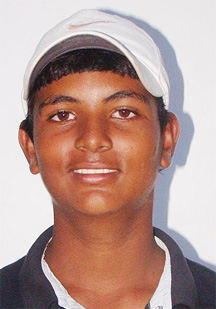 Patrick Prashad was Nearest to the Pin on the second day.
Sukhram shot net 73 on the first day and 67 on day two to finish with an overall net of 140.
She recorded the best net of 67 and best gross of 78 on the second day in the competition that attracted 12 female players.
Sukhram's arch-rival Surinamese Petra Beems was the winner of the women's competition.
Kishore shot net 68 on the first day and 71 on day two to finish on 139 coming out ahead another Guyanese Mike Mangal who finished on 141.
The Guyana team also included Bholawram Deo, Mike Gayadin, Mohanlall Dinnanauth, William Walker,Alfred Mentore, John Tracey, Brian Glasford, Jerome Khan, Esau Shamshudin, Imran Khan and Kishun Bacchus.
The  players will now be focusing on three major local tournament to be played off  starting this weekend with the Digicel two-day Classic with the R1 Vokda Guyana Open slated for October 22-23 and the Citizens Bank Players Cup on October 26 (Diwali Day)
Several overseas players are likely to be in Guyana this weekend for the Digicel Classic in preparation for the premier Guyana Open the following weekend.
Around the Web