(Reuters) Pakistan Cricket Board chairman Ijaz Butt has left for Dubai to attend the ICC's executive board meeting even as a decision on his extension is expected to be taken in the next 48 hours.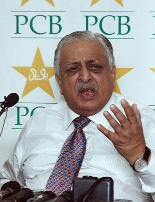 Butt's three-year tenure as board chairman officially ended Saturday (Oct 8) as per the notification issued by the government in October, 2008 when he took charge.
But government officials close to the Presidency confirmed that President Asif Zardari who is also chief patron of the board would take a decision on whether to give an extension to Butt or appoint a new chairman by yesterday.
"A decision will be taken in the next 48 hours," one official said."The President has been very busy with the political scenario in the country and other issues but a decision is expected in the 48 hours," he confirmed.
Butt, however, carried on business as usual and left for Dubai on Saturday to attend the ICC meeting. Officials in the board were unaware of any developments on the issue of Butt's extension."There is no indication what is going to happen, we are ourselves anxiously waiting for a notification from the Presidency," one official said.
Reliable sources in the government said former Test captain, Majid Khan has emerged as a front runner to replace Butt."The President is a firm believer in having former players run the board and Majid has emerged as a serious candidate," one source said.
Another source said former Test captain Javed Miandad, who is also director general in the board and never saw eye to eye with Butt, is also using his contacts in the ruling Pakistan Peoples Party to let the President know he is interested in the top post."But from what we heard Majid Khan is a strong candidate because of his clean background," the source said.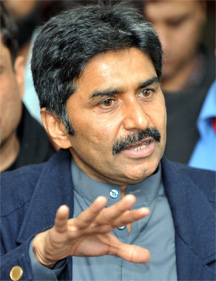 Majid worked as chief executive of the board from 1996 to 1999 and is the first cousin of leading opposition leader, Imran Khan.
Butt's three-year tenure has been marked by many controversies and scandals with players disciplinary issues flaring up time and again.
"If anything Butt during his tenure showed he was ready to take on the players' power culture in the team and has tamed it to a large extent now because now no player takes his place in the team for granted," one board official said.
His tenure is mainly remembered for the militants attack on the Sri Lankan team in Lahore in March, 2009 and for the spot-fixing scandal that led to the bans on three of Pakistan's brightest stars-Salman Butt, Mohammad Asif and Mohammad Aamer.
Around the Web