By Iva Wharton
Equality for women in cricket is far from becoming a reality in Guyana but several of Guyana's senior national players said they are not discouraged.
Instead they have vowed to continue to fight for change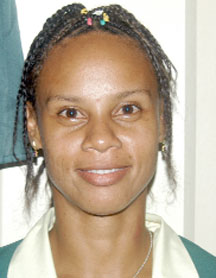 When Stabroek Sport caught up with Abeina Parker and Joann Van Sertima they were engaged in a softball competition at the Carifesta Sports Complex.
Chump change
The two women they are prepared to accept small changes, such as an increase in their stipend for matches  representing Guyana while they continue to contend for equal rights.
The Guyana Cricket Board (GCB) currently pays female players on international tours US$100 for the entire tournament and this newspaper understands that that figure is not fixed.
"Some of the years we don't get nothing at all. Some years we get fifty [US$50] this year we ain't get nothing," Parker declared.
The familiar excuse is that the GCB does not have money to pay them, she said, adding that this year it was that the board did not have anyone to sign the cheques.
However, "If a male tournament comes up you better believe it they are going to get the money," Parker contends.
Echoing these comments was Van Sertima who said some players have families to support while others are in school and it is not fair that they are not paid properly.
She also said she has to take no-pay leave from her place of employment to represent Guyana.
No life of luxury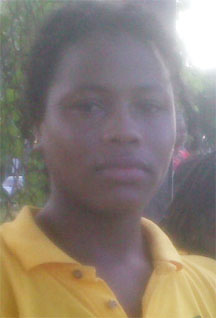 Like their male counterparts, the women would also like to own cars. "We can't even afford to buy a bicycle much less a car, but the guys can and are doing it. They don't have to work, but we do," another player chimed in. Also, female players are not paid to play at the inter-county level but the men are paid. For years, they said, they have been calling for increases, but it has fallen on deaf ears. The women said while the men earn about US$700, they would accept US$400 or US$300.
Parker argues that the women have earned an increase based on their performances over the years.
"If you look at the guys play, we play a much better cricket than the guys at all levels and that is what I feel and they get so much money for doing nothing and they just give us a US$100," she said. Parker says the lack of representation is to be blamed for their mistreatment.
"They do whatever they like with us and we have to take it. It is not fair, we work as hard as these guys. In every tournament we have to train, go into camp and do everything," she explained.
The women said their love for the sport keeps them going, saying it is impossible for a female cricket player in Guyana to make cricket a career. Many of the women have to seek alternative employment and playing softball and tape ball competitions provides another source of income for them.
After the regional tournament, hardball cricket is closed until next year. During this period the women then play softball and tape ball to stay fit as the GCB has not organised other tournaments for them. "How can we win when we don't have tournaments? When we come back from tour that is it for the rest of the year till next year," Parker explained.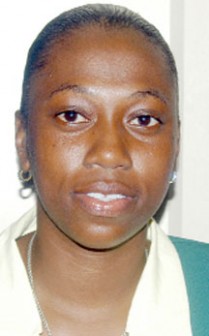 According to Onika Wallerson, sometimes women cricketers only play for two weeks in an inter-county tournament, for an entire year before they head into regional competition. "Everything is being in rush through, they want you to play inter-county and inter-zone in two weeks after which a team is named and then want us to do exceptionally," she said. In order to attack more girls to the game, she contends that the GCB needs to demonstrate its interest in the current group of women players who will soon retire, and provide opportunities to them to earn from the game
Ashame.
The women said they are often ashamed to share their experiences with their counterparts from other cricket nations in the Caribbean. "When we playing inter-zones these girls are already encamped preparing for the regional, which is like two months ahead. Some of them gone to another country for warm-up matches. The girls are paid well, while we hardy get anything," Wallerson said.
Because of this, Parker said often the women go into a match feeling dejected. "But we still go out and fight because when you go into a match no matter if you are not being paid or whatever, you don't want to lose, so we fight," she said.
Humiliation
The women believe that the GCB was forced to take responsibility for women's cricket because it was stipulated by the International Cricket Council (ICC) and that the officials have no real interest in developing the game. "They just pushing us because the ICC representative does not come to Guyana. If they do come they would see exactly what is happening," she said. According to Parker the GCB demonstrated how little they values them during their last encampment when they were housed at the Chetram Singh Hostel at LBI alongside their male counterparts. The women said they felt violated when they found their male counterparts staring at them when they took baths. The senior players who have been in the sport over ten years, said that that was the first time that the GCB had humiliated them to that extent and they were given no answer about why the men and women were housed together.
Parker does not believe that writing or talking to the GCB officials will bring any results because "they are too powerful…. They feel that because we want to play the cricket we must accept whatever it is they do."
On another occasion they had to ask for Gatorade and fruits, "They guys are gettingGatorade and fruits at their games, practice matches at that and we had to beg for that. We in camp preparing to leave the country and we have to beg for Gatorade and fruits". Things are not getting better, they are getting worse said Wallerson.
There was yet another occasion when they were forced to wake from Gandhi's Ground to GNIC for water. Both grounds are in Woolford Avenue.
The sport they said is an enjoyable one, but the GCB must be willing to invest in it. The board they said is not even trying to ensure that females have more tournaments to support development.
"We don't want to travel to England for practice matches, but they  could take us to Trinidad or some country nearby for the international exposure". They also alluded to the fact that older females in certain administrative positions are not very supportive of their efforts. They said that one would have taught that their fellow women folk would have been looking out for their best interest, but that has not been the case.
Quite a few of the national players involved in softball and tape ball cricket are on the Well Woman team sponsored by Mike's Pharmacy. The company they said has been very supportive of their efforts at the national level and for that they are very grateful.
Around the Web