Physically challenged cyclist Ian Jackson pedalled his way to victory in the second leg of the third annual Dr. Cheddi Jagan Memorial 50-mile cycle road race Sunday morning on West Coast Demerara.
Jackson rode his way into the winning position after the riders left Wales Police Station at 09:00 hours; proceeded to Bushy Park, East Bank Essequibo and returned to the Demerara Harbour Bridge for the finish.
The Veteran and Upright cyclists turned back at Uitvlugt Community Centre and also finished at the Harbour Bridge.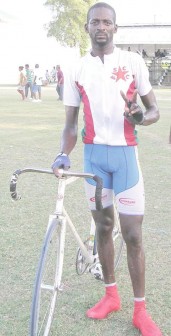 Jackson was practically unchallenged while crossing the finish line and he completed the event in one hour, 58 minutes and 47 seconds (1:58:47), beating last year's winning time of two hours, three minutes and 43 seconds (2:3:43) set by Raymond Newton.
Other notable senior cyclists such as Alonzo Greaves and Robin Persaud were restricted to second and third positions respectively behind Jackson while Warren 'Forty' Mc Kay, Mark Lewis and Junior Niles crossed the finish line in that order to close out the top six positions.
Niles had won the first leg of the memorial race in Berbice with blistering speed while Newton was also among the top three riders in Berbice. But the two were no match for Jackson, who elevated his performance from the Veteran title in Berbice to the Senior win on Sunday.
Kurt La Rose, who has not been on top of the juniors in the past few races, surged to the front once again, beating Paul De Nobrega into second position while Linden's Montel Anthony was third among the juniors.
Last year's upright winner, Jude Bentley who has been absent from a number of cycle races recently returned to his winning ways on Sunday when he defeated his opponents in the upright category. Kestor Croal and Andre Petty finished second and third respectively.
Kennard Lovell was the first Veteran to cross the finish line ahead of Turhan Harris and Shameer Baksh, while Naomi Singh, winner of the female race in Berbice, was the lone female competitor on Sunday.
Walter Isaacs was once again on top in the Veterans over-60 category beating Monty Parris, who crossed the finish line in second place.
At the presentation ceremony that followed shortly after the race, top finishers were presented with their respective prizes and prime prizes. McKay carted off five of the eight prime prizes, while Greaves, Talim Shaw and Newton grabbed one each.
Cyclists will now head to Supenaam for the start of the third and final leg of the Cheddi Jagan Memorial race on Sunday. The third stage which begins at Supenaam will proceed to Charity before returning to Anna Regina for the finish.
Around the Web