The Stretch D Dollar Supermarket  in collaboration with the Flying Ace Cycling Club of Berbice will stage its first cycling event this year on Sunday on the West Coast of Berbice.
The race is open to cyclists throughout the country.
The race will cover a distance of 50 miles and bikers will take off at 09:00 hours from Stretch D Dollar Supermarket at Rosignol and race to the Abary Bridge before heading back to the starting point for the finish.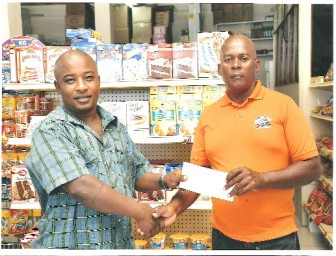 There will be two separate categories for  novices and females. The novices will ride  25 miles while the ladies will race six miles,  starting at the Hopetown Gas Station and proceeding to the finish line at Rosignol.
Prizes will be awarded to the first 10 cyclists to cross the finish line and eight prime prizes are also on offer.
Chief Executive Officer of the Stretch D Dollar Supermarket Rudolph Blair, who is also a member of the Flying Aces Cycling Club and a former cyclist, will be on hand, along with his family, to present prizes to the cyclists.
He will also be starting the race which is being coordinated by Flying Ace cycling coach Randolph Roberts. Interested persons are asked to contact Roberts on 628-1951 for further information.
Comments

On the back of recent sublime form, Hamza Eastman continued his victorious ways yesterday.

In an extraordinary display of speed and stamina, Team Alanis' Paul DeNobrega took the spoils of the 5th annual CARICOM 50-mile road race with a wire-to-wire win yesterday at West Demerara.

Top cyclist Michael Anthony was a double winner yesterday as the first stage of the 17th annual three-stage memorial cycle road race in memory of former Guyana president Dr Cheddi Jagan concluded in West Demerara.
The cream of the nation's wheelsmen will once again turn the roadways of West Demerara into their battleground today when Hassan Mohamed continues his cycling calendar.

United Cycle Club's (UCC) Albert Philander held off a strong challenge from national road race champion Raynauth Jeffrey of Team Coco to win the feature 35-lap event at yesterday's National Sports Commission (NSC) sponsored 11-race cycle programme in the National Park.