Yosimi Pol of Team Coco pedalled  his way to the title at the 29th annual Independence Three-Stage Road Race clocking 6:39:59s to dethrone defending champion Warren Mc Kay.
Mc Kay finished second overall with a time of 6:40:03s ahead of Team Coco's Frank Taravieso who came third with 6:40:13s.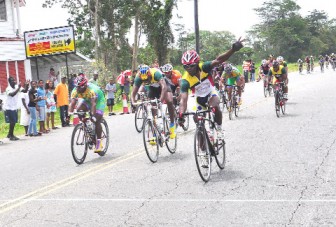 Heat Wave's Phillip Clarke – 6:40:24s, Joshua Alexander – 6:42:26s and Antonio Gintero  – 6:42:26s, rounded out the first six finishers.
Yesterday, Guyana's Godfrey Pollydore won the final stage from Linden to Homestretch Avenue in a time of 2:46:22s ahead of Mc Kay, Pol and Frank who finished in that order.
Following the completion of the final stage that saw just 43 of the riders remaining after starting with a record – 80 participants, Minister of Culture, Youth and Sport Dr. Frank Anthony made brief remarks to the athletes and spectators then assisted in the presentation of prizes.
Around the Web