Walter Grant Stuart in a time of three hours, nine minuets and 21 seconds yesterday won the Guyana Cycling Federation's (GCF) annual National Road Race Championships.
In second position was Alonzo Greaves in a time of three hours, nine minutes and 53 seconds while defending champion Warren Mc Kay was third finishing in three hours, nine minutes and 53.50 seconds.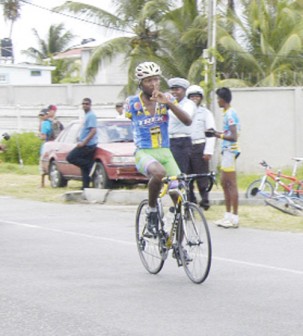 Some 21 starters participated in the 80 mile event.
Paul de Nobrega won the junior category from a field on 12 starters completing the 60 mile distance in  two hours, 22 minutes and 40 seconds.
Second place went to Ray Millington in two hours 26 minutes and 38 seconds while Jeban Crawford was third in two hours, 30 minutes and 34 seconds.
Junior Niles carted off the 45mile men's veteran category from a field of 12 starters.
His winning time was one hour, 47 minutes and 28 seconds. Stephen Fernandes in a time of one hour, 48 minutes and 22 seconds and Andrew Phang in one hour, 56 minutes and four seconds were second and third respectively.
In the female category the winner was Hazina Bharrat who completed the 45 mile distance in one hour, 52 minutes and 31 seconds. Second was Naomi Singh in one hour, 52 minutes and 32 seconds with Marica Dick third in two hours and eight seconds.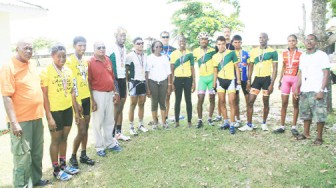 Fourteen year old Lindener Mark Anthony actually placed second in the junior division but was disqualified.
President of the Guyana Cycling Federation Cheryl Thompson last night told Stabroek Sport that the GCF had denied permission for the cyclist to compete in the race despite pleas that he had travelled very far and should be allowed to do so.
Thompson said apparently the cyclist took it upon himself to participate in the event and was subsequently disqualified as it is against the rules of the International Cycling Union (UCI).
Thompson said the results of yesterday's race were submitted to the UCI.
"I don't know how he got into the race," Thompson told Stabroek Sport.
She said that cyclists are supposed to know their categories and be aware of the fact that they cannot ride outside of their categories if the rules do not permit such.
Yesterday's race started and ended outside the Ocean View International hotel on the East Coast of Demerara.
Around the Web