ST FLOUR, France,  (Reuters) – France's Thomas  Voeckler seized the Tour de France reins in a crash-ridden ninth  stage yesterday with more favourites caught up in the carnage.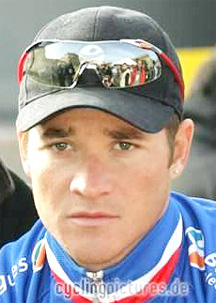 Alberto Contador suffered an early spill before getting back  on the saddle amid suggestions he was pushed while Alexandre  Vinokourov was among injured several riders to pull out of the  race. A television car later hit the leading group.
Voeckler belonged to a breakaway launched with compatriot  Sandy Casar and Spain's Luis-Leon Sanchez, who outsprinted the  two Frenchmen for the stage victory.
The trio's move on the 218-kms ride from Issoire followed a  series of crashes and accidents which led the peloton to  deliberately slow and eventually cross the line 3:59 minutes  behind Sanchez.
Overall, Voeckler leads Sanchez by 1:49 and Australia's  Cadel Evans by 2:26.
The stage was marred by the most serious of several massive  pile-ups since the Tour started.
Ninety kilometres from the line, on the Pas de Peyrol  descent, a dozen riders fell onto the tarmac or tumbled into a  roadside ditch and four were taken to hospital.
Kazakh Vinokourov, third in the Tour in 2003, called it  quits with a broken thigh and had to be carried into an  ambulance by his team mates.
Belgian Jurgen Van den Broeck, fifth last year, tried to  make it back on his bike but pulled out a few hundred metres  further down the road with a broken shoulder blade.
His team mate Frederik Willems fractured his collarbone in  the same crash while American David Zabriskie broke a wrist and  also called it a day.
The four added their names to a casualty list already  comprising Briton Bradley Wiggins, Belgian Tom Boonen and Janez  Brajkovic, all forced out of a crash-strewn first week of the  Tour.
Such was the chaos that Belgium's Philippe Gilbert, the  green jersey holder, Swiss Fabian Cancellara and then yellow  jersey holder Thor Hushovd came to the front of the pack and  called for a temporary truce to allow teams to enquire about  their injured.
Later in the stage, 35 kms from the finish line, a  television car hit two members of the then five-man breakaway at  the front of the race, Spain's Juan Antonio Flecha and Dutchman  Johnny Hoogerland.
While Flecha hit the tarmac and hurt his elbow, Hoogerland  was sent flying into a barbed-wire barrier. But both were able  to make it back on their bikes with severe bruises.
The incident left Voeckler, Casar and Sanchez to battle it  out for stage victory.
Monday is a rest day on the Tour with the battered and  briused glad of a break.
Around the Web