National cyclist Geron Williams made the most of his six-month stay in the United States where he was training and also competing in various events.
Williams, who had the opportunity to train under the guidance of former national cyclist, US-based  Aubrey Gordon, competed in the Professional Category One and Two races.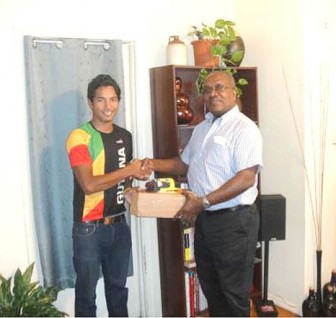 While some of the races varied in distance between 30 to 50 miles,  his sterling achievements included four golds along with two silvers, three bronzes, three top fives and three top ten finishes on the road. He also picked up one silver, one bronze and three top five finishes on the track.
However, with all the accomplishments and experience he gained from the trip, none was probably more satisfying than his bronze medal win in a 92-mile race which was his longest race in United States.
Speaking with Stabroek Sport, Williams explained what it was like to train and compete at a higher level.
"Well for me the training up there was what my coach outlined for me but racing wasn't easy because I had to compete by myself and it's not easy to race alone with five or six teams that have about five members per team," Williams said.
The period Williams spent competing in the U.S. also allowed him to become a better rider with the experience that he gained.
"Well first thing I've learnt is to read races a bit more especially down here where I know how different riders…over there where I didn't know anybody I had to be more patient to wait to see who is looking good and how to make moves," Williams related to Stabroek Sport.
Williams who received a pair of Michelin tyres, Shimano Dura cassettes and chain from the Guyana Cycling Association of North America (GCANA) will now look to use his wealth of experience when he meets his teammates in Jamaica for the Caribbean Cycling Championships this month.
Comments

On the back of recent sublime form, Hamza Eastman continued his victorious ways yesterday.

In an extraordinary display of speed and stamina, Team Alanis' Paul DeNobrega took the spoils of the 5th annual CARICOM 50-mile road race with a wire-to-wire win yesterday at West Demerara.

Top cyclist Michael Anthony was a double winner yesterday as the first stage of the 17th annual three-stage memorial cycle road race in memory of former Guyana president Dr Cheddi Jagan concluded in West Demerara.
The cream of the nation's wheelsmen will once again turn the roadways of West Demerara into their battleground today when Hassan Mohamed continues his cycling calendar.

United Cycle Club's (UCC) Albert Philander held off a strong challenge from national road race champion Raynauth Jeffrey of Team Coco to win the feature 35-lap event at yesterday's National Sports Commission (NSC) sponsored 11-race cycle programme in the National Park.