The Guyana Telephone and Telegraph (GT&T) Company yesterday extended the period for teams to be registered for the Fastball competition that will kick off on July 6 in Linden.
The registration period for the competition which closed last Friday was extended to this Friday by  Chief Executive Officer (CEO) of GT&T, Yog Mahadeo at a media briefing held yesterday at GT&T head office on Brickdam.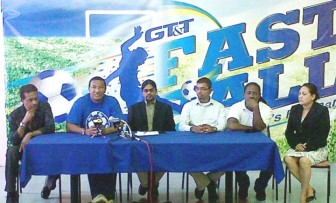 The approximate amount of money being spent on the tournament is $50 million and 120 teams were confirmed for the competition, Mahadeo disclosed.
Approximately 30 more teams had sent in late applications which influenced the decision to extend the registration period for the inaugural event.
"We think with that based on the feedback that we have received we are going to have a good tournament," Mahadeo stated.
Kashif Mohammed who is a part of the organizing team for the event  said that the preparations for the tournament is great and he also indicated that there will be around 15-20 female teams participating.
Kerwin Bollers of  Hits and Jams Entertainment then talked about the entertainment aspect of the competition which will see reggae artiste, Konshens performing at the opening of the competition.
Meanwhile the finals will also feature an entertainment segment. The semifinals and finals are  expected to conclude on August 6 with approximately
$6 million being up for grabs with $2 million going to the winners of the competition while the remaining $4 million will go towards cash and prizes that will be given away to spectators.
Meanwhile the last awareness game for the tournament will be played on July 2 in Linden where 16 of the 30 teams registered from Linden will be in action.
Mahadeo concluded by saying that this tournament is a gift to the community from GT&T and the tournament can only get bigger.
Around the Web