The Georgetown Football Association (GFA) in tandem with the National Sports Commission (NSC) kicked off their Club Futsal Football competition last Tuesday evening at the Cliff Anderson Sports Hall (CASH).
The five-a-side football competition that will conclude on July 17 at the CASH will see the winners of the tournament walking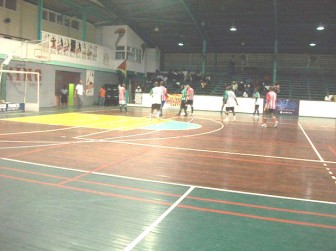 away with $500,000.
According to president of the GFA Vernon Burnett all of the teams affiliated with the GFA have confirmed their participation with the exception of Pele FC and BK Western Tigers.
Burnett also pointed out to Stabroek Sport that because of their current spat with the Guyana Football Federation (GFF), the Referee Union was commanded not to participate in the tournament via a letter from the GFF.
The GFF was issued with an injunction that has held up their Annual General Meeting (AGM), stopping the elections of the Colin Klass-led administration due to the GFA not being awarded their voting and decision making rights by the GFF.
"As you know we have been dormant since 2009 to now and we will not allow anybody to disrupt our 2011 programme or affect us from developing the game of football in Georgetown," Burnett told Stabroek Sport.
However, the night saw teams succumbing to heavy defeats in the opening games as YMCA trounced Houston 6-0, Beacon dominated the Police Force by 6-1, Charlestown FC crushed Santos FC 3-0 and Sunburst Camptown easily disposed of Rhythm Squad 3-0.
Meanwhile all the preliminary games will be played at the National Gymnasium and will continue tonight from 19:00hrs, while the quarterfinals through to the finals will be played at the CASH.
Around the Web