Tucville Secondary and North Georgetown Secondary won the boys and girls' titles respectively as the curtains came down on the Scotiabank/Pepsi Schools Football Academy football finals  at Georgetown Cricket Club (GCC) ground Saturday afternoon.
It was an exciting end to the Academy that started in February as Tucville Boys scored a thrilling 2-1 win over East Ruimveldt Secondary while North Georgetown "Peppers" brushed aside East Ruimveldt girls 2-0 in the two finals watched by a fair size ground.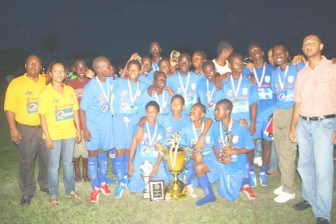 In the boys' final, goals by Steffon Enoe who was voted Most Valuable Player (MVP) and Ryan Headley piloted Tucville to victory.
Enoe netted in the 13th minute of play but the lead was shortlived when Jamal Pedro scored the equalizer for East Ruimveldt one minute later. The score remained unchanged during the first half but in the second session Headley converted with an excellent individual play in the 45th minute erupting celebrations around the ground.
MVP in the girls division Alethea Holligan proved to be a cut above the rest when she scored a double to lead North Georgetown to a 2-0 win over their East Ruimveldt counterparts.
The prolific Holligan who netted 16 goals in the tournament dazzled her opponents with very skilful moves on the field.
She scored the first goal in the 9th minute and then again in the 30th minute and seem set to be a candidate for the National Under-17 female squad to be named shortly.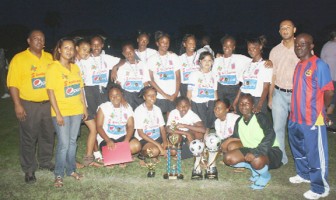 US-based Technical Director of the Lady Jaguars Mark Rodrigues  who is in Guyana to scout talented players said he was impressed by Holligan's exploits and later presented her with a Lady Jag shirt.
Chairman of the Organising Committee Colin Baker said he was pleased with the high level of competition and expressed gratitude to the major sponsors Scotia Bank, Pepsi, the Guyana Football Federation and the alumni associations of the some of the competing schools.
Jennifer Cipriani Scotia Bank Marketing Manager and Marlon Greavesande representing Pepsi both lauded the organizers for a well run tournament.
GFF General Secretary Noel Adonis said that Schools football was alive once again and expressed appreciation to the sponsors and organizers.
Apart from prizes for the winners and runners-up, coaches, referees and officials of the organizing committee were also honoured. Thirteen students also received scholastic awards.
The Academy attracted the following schools Christ Church Secondary, East Ruimveldt , Lodge Secondary, North Georgetown, Tutorial High, Queen's College and St. George's High in the Boys category and Christ Church, East Ruimveldt, Lodge, North Georgetown, Tucville, Tutorial and Queen's College in the girls division.
Around the Web