(Trinidad Express) A FIFA corruption investigation has concluded there is fresh evidence to support claims that former FIFA vice-president Jack Warner and Mohamed bin Hammam colluded to offer bribes of up to US$1 million (£625,000) to Caribbean football officials, according to the London Telegraph newspaper.
The investigation, conducted by former Federal Bureau of Investigations (FBI) director Louis Freeh, is understood to have uncovered new evidence supporting the findings of the initial enquiry by lawyers acting for FIFA executive committee member Chuck Blazer.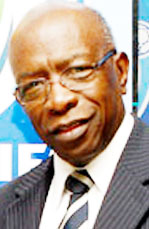 Up to nine out of the 25 Caribbean Football Union (CFU) national associations have told Freeh that they were offered or witnessed bribes of up to US$40,000 per-nation (amounting to US$1 million) being offered in brown envelopes to delegates at a special meeting of the CFU in Trinidad in May.
The witnesses have also alleged that they heard Warner explicitly explain that the money was from bin Hammam and that it was linked to the Qatari's presidential election campaign.
Bin Hammam challenged Blatter for the June 1 vote but withdrew days before the election in the wake of the allegations coming to light.
FIFA confirmed yesterday that bin Hammam would now face a personal hearing before the Ethics Committee on July 22, with a verdict expected the following day. Warner no longer faces FIFA sanctions having resigned from all football posts on June 20 and did not meet with investigators.
A significant number of CFU nations, perhaps as many as a dozen, have declined to be interviewed, either refusing requests for meetings or dodging investigators during their travels in the Caribbean.
They could face disciplinary action as the Ethics Committee warned that it would "draw a negative inference" from failure to cooperate with Freeh. In the initial stages of the enquiry, 12 Caribbean nations wrote letters in support of Warner denying that they had witnessed any attempted bribery in Trinidad.
Warner, a FIFA vice-president at the time of the Trinidad meeting, resigned from all his football posts after receiving the Ethics Committee's initial findings, which declared there was "convincing and overwhelming evidence" against him.
FIFA dropped its investigation into Warner following his resignation but Freeh's report is understood to refer to his alleged role in the suspected bribery.
The report has not, however, established a more direct evidential link between bin Hammam and the cash offered in Trinidad, beyond witnesses reporting Warner's alleged comments at the meeting.
It is not clear what conclusions Freeh has reached about the actions of executive committee members Worawi Makudi of Thailand and Fernando Manilal of Sri Lanka, both of whom were with bin Hammam at the Trinidad meeting.
Freeh's findings have been passed to the FIFA Ethics Committee, which will meet later this month to consider the report and take evidence from bin Hammam
Bin Hammam has insisted throughout this case that he is innocent of the charges and is the victim of a politically-motivated attempt to discredit him ahead of the presidential election.
At the time of publication neither bin Hammam or Warner had responded to invitations to comment.
Around the Web