LONDON, (Reuters) – Manchester City announced a  hugely lucrative naming rights deal with Etihad Airways yesterday which will see their City of Man-chester Stadium immediately renamed the Etihad Stadium.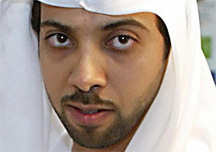 At a news conference at the arena, the club also unveiled  their own team jet, an Airbus A-330 in the team's sky blue  colours with their name and badge emblazoned on the sides.
The deal, according to widespread British media reports, is  worth a reported 150 million pounds ($241 million) spread over  the next 10 years, and will give the club a major revenue boost, allowing them to comply with UEFA's new financial fair play rules which come into effect for the 2013-14 season.
UEFA though, are likely to examine the deal because under  the new regulations clubs are not allowed to spend more than  they earn. If UEFA feel the sponsorship deal has been inflated  to give income levels an artificial boost, then they could take  action.
The estimated worth of the deal trumps the previous British  record naming rights deal secured by Arsenal, who struck a  15-year agreement worth 100 million pounds with Emirates Airways  in 2006.
Etihad, City's major sponsor, is the national airline of Abu  Dhabi and the deal reflects the links with the club's wealthy  owner Sheikh Mansour bin Zayed Al Nahyan.
City are already regarded as the world's richest club  because of Sheikh Mansour's wealth, estimated at some US$1.0  trillion.
The new deal further enhances their spending power, while at  the same time enabling coach Roberto Mancini to build a team  capable of displacing rivals Manchester United at the top of the  English and European game.
Around the Web