CORDOBA, Argentina, (Reuters) – Lionel Messi's  Argentina put their Copa America fortunes on the line today  (0045 GMT Tuesday) against a Costa Rica side assembled at the  last minute.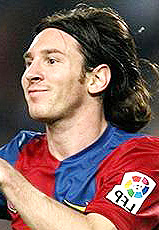 The hosts, boasting half a dozen of the world's top forwards  and the pre-tournament favourites, have struggled and have found  the net only once in two draws against Bolivia and Colombia.
The Costa Ricans, with a young side under wily Argentine  coach Ricardo La Volpe, shocked Bolivia 2-0 in Jujuy on Thursday  to take second place in Group A behind Colombia and above  Argentina.
Messi, his team mates and coach Sergio Batista have come  under fire from media and fans with former captain and 2010  World Cup coach Diego Maradona stepping in to demand more  support for Argentina.
"We Argentines can't behave like this with the best (player)  in the world," Maradona said, criticising reports attacking  Messi. An emotional Maradona, whose mother is in hospital, also  told the sports daily Ole in an exclusive interview published on  Sunday (www.ole.com.ar), that he would have struggled playing  with three holding midfielders.
ONE GOAL
Batista plays Javier Mascherano, Ever Banega and Esteban  Cambiasso in the middle of a 4-3-3 formation. Sergio Aguero, as  a substitute against Bolivia, has scored their only goal of the  tournament so far.
Around the Web